Creating a National Logistics Day
The logistics industry is pretty amazing. It's hard to believe that, three years ago, there was no specific day to recognize or celebrate the importance the logistics industry plays in our domestic and global economies. In 2019, when Logistics Plus took it upon ourselves to register June 28th as the first and only "National Logistics Day" in the U.S. with National Day Calendar – a national holiday registration company – we wanted to create a day of celebration for all of the great jobs and essential services our industry provides.
Most people understand that it takes transportation and logistics to get the stuff we all want and rely upon to our homes and offices, but it could be argued that what our industry does is often taken for granted. The well-publicized challenges sourcing, importing, and distributing PPE, vaccines, and other critical supplies over the past year and a half have shined a light, once again, on how crucial our industry is to all of us. In fact, it is estimated that the transportation and warehousing segment in the U.S. alone accounts for over 5.5 million jobs and that logistics activities account for nearly 8% of everything we make and sell. The third-party logistics segment alone represents a $233 billion industry. We're important.
Thanks to a groundswell of support, it was impressive to witness the holiday take root. Seeing transportation and logistics companies, both large and small, lighting up social media with #NationalLogisticsDay tweets, posts, and shares of support was extremely gratifying. But that was not the only support. The Commonwealth of Pennsylvania issued a House Resolution naming National Logistics Day as an official state holiday; the States of Ohio and South Carolina both issued formal proclamations; and with the support of Congressman Kelly, the U.S. House of Representatives issued a formal Congressional Record honoring June 28th as a National Logistics Day.
Although we are proud to have started National Logistics Day in 2019, we recognized that this is a holiday for our entire industry, not just Logistics Plus (a humble, Erie, PA-based company with ambitions of global domination ?). That is why we are so pleased that in 2020 the Transporation Intermediaries Association (TIA) – the definitive voice for the logistics industry – took the reins and are now running the show. And this year, we are working closely with TIA to lobby the White House Office of Public Engagement to see if we can obtain a Presidential proclamation for National Logistics Day. That would certainly be a great feather in all our caps.
Although the pandemic may have dampened some of our celebration plans for 2020 and 2021, we still look forward to a robust "virtual" celebration with our industry peers. So, please join us in stepping back to collectively "toot our own horn" on June 28, 2021, and let the world know how great the logistics industry is. Cheers!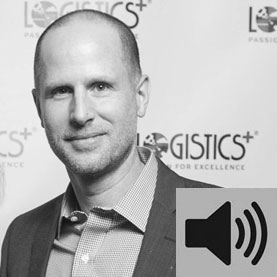 Scott Frederick
Vice President, Marketing
& LTL Carrier Relations
Logistics Plus Inc.