San Bernardino Warehouse & Fulfillment Center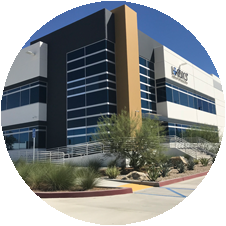 Located in San Bernardino, California, the Logistics Plus San Bernardino warehouse is the perfect hub for businesses needing Southern California warehousing and fulfillment services. The facility has over 154 thousand square feet and 32 dock doors.
154,560 square feet of storage space
Secured facility with monitored cameras and alarms
30 docks for loading and unloading
50 trailer parking spaces
Forklifts with heavy-lift capability
Dedicated warehousing and distribution specialists
Inventory control and warehouse management system (WMS)
Special expertise for solar and furniture industries, but suitable for many types of products
Complete pick, pack, and ship services with Logistics Plus Fulfillment Solutions
FBA (Fulfillment By Amazon) inventory management, preparation, and labeling
Omni-channel fulfillment solutions, including direct-to-consumer, eBay, Walmart, and more
Logistics services available for all your import/export and domestic transportation needs


You can also email us at pricing@logisticsplus.com for general warehousing or pricing inquiries; or amazonretailer@logisticsplus.com for Amazon FBA import and storage quotes.
Tom Kelly (Regional Director of Warehousing)
Phone: 323-228-0177
Email: tom.kelly@logisticsplus.com
Kurt Samuelson (San Bernardino Warehouse Manager)
Phone: 951-609-4297
Email: kurt.samuelson@logisticsplus.com
Logistics Plus Inc.
750 S Valley View Ave.
San Bernardino, CA 92408