All,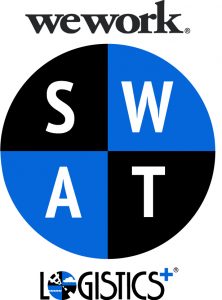 Just wanted to give you an example of the incredible job our SWAT team (Serving Wework All the Time) team is doing. Not only in coordinating everything worldwide to help WeWork open up over 100 new offices with over 100,000 desks in 2017 (200,000 planned for 2018!) but making sure that it is done RIGHT.
Part of that job is claims from loss or damage.
Well, in 2017 the value of the WeWork products that we handled was over $25M.  The claims for loss and damage totaled $35,000. That means that 99.86% delivered cleanly (see chart below – for those of you who are bad at math, it means that less than 2 tenths of 1 percent of all we handled generated any claims ?).
Now, that's amazing in any event. But…
Considering that we handle each piece 4 or 5 times. From factory to warehouse to installer to delivery to installed on site, it is even more remarkable. (LTL trucking for instance—you pick up a skid at a dock and deliver to another dock. Here you not only deliver it, but you unbox it, take it upstairs and assemble it, or hang it on the wall. Unbelievable!)
Great job of keeping an eye on things throughout, and setting an incredible standard.
Way to go SWAT !
JB