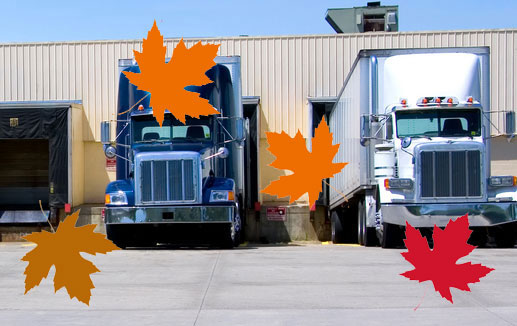 The leaves are turning, temperatures are dropping, and the peak Fall freight shipping season is here once again. Manufacturers are working to ship year-end orders, distributors are managing inventory and fulfilling shipments, and retailers are stocking shelves for the holidays. No matter where your business lies within the supply chain, finding affordable and reliable freight capacity this time of year is critical. To help get you through the season, here are 8 cost-saving freight shipping tips for you to consider:
Avoid surprises by knowing as much about your shipment as your carrier does. Carriers use dimensioning machines and forklift scales that measure and weigh every pallet. If your documentation doesn't match their calculations, you're charged an administrative fee to make the correction – plus your freight charges may be adjusted higher if it is heavier or takes up more space than expected. So know your proper freight classifications, and be sure to note specific National Motor Freight Classification (NMFC) codes on your bill of lading.
Focus on the net cost. Discounts can be misleading. When shippers get a big discount from a carrier, they often think it's a great deal; but there are so many other factors to consider, including the fact that "list price" base rates vary from carrier to carrier and from lane to lane. So an 80% discount off one carrier's base rates may actually be more expensive than, say, a 75% discount from another base rate schedule. That's why it is important to focus on only the total net cost, and not the discount (as we do here at Logistics Plus).
Know when to consolidate. When shipping LTL freight shipments (those weighing between 150 and 10,000 pounds), consider consolidating orders to create a full truckload. LTL rates are usually much higher than truckload rates. Additionally, you should monitor your shipping patterns. If you find you are shipping multiple LTL shipments to the same customer within a close date range, consider consolidating those smaller loads into larger ones to reduce your overall expense.
Understand the value of your product and carrier liability limits. Every booked freight shipment comes with limited liability coverage. The amount of coverage is determined by the carrier and based upon the commodity type. It covers a certain dollar amount per pound of freight.  In some situations, the included liability coverage may be less than the value of the shipped goods. If so, this is where additional freight insurance may be purchased. The extra freight insurance covers the shipped items and the cost of freight shipping. It is redeemable under all types of loss with no proof of fault required. Unlike the limited liability coverage, with added insurance, there are no exclusions for packaging errors or severe weather.
Be realistic about the service level you need. If your customer expects delivery in three days, you don't need to overpay to deliver their shipment in one day. Additionally, don't use a national freight carrier to deliver short-distance shipments, or a regional carrier to deliver coast-to-coast shipments. Regional carriers are much more cost-effective for regional shipments, while national carriers will provide the best "long-haul" service with minimal handling. When you do need expedited freight service, knowing your carriers and options can make a big difference on the final price, i.e., expedited ground shipping is going to cost much less than expedited air.
Pay attention to your packaging. Shrinkwrap your freight to your pallet to avoid it from sliding or shifting during transit. This will minimize costly damages and delays. Furthermore, don't use more packaging than is required for your shipment. Over-packaging can create additional weight or "dead air," both of which will add to your shipping costs.
Don't forget about your inbound shipping. Oftentimes companies will ignore cost-saving opportunities with their inbound shipping because their vendors pay for the shipping on these orders. The reality, however, is that nothing ships for free. Many vendors will use a "prepay-and-add" approach to make additional profit on freight shipping. A thorough analysis of your vendor invoices might provide cost-saving opportunities if you bring the inbound shipping and routing under your own control.
Know how much time you're spending on freight shipping. A lot of valuable time and resources can go into freight shipping. Finding scarce truck capacity, sourcing the right carriers, negotiating agreements, obtaining multiple carrier quotes, tracking shipments, auditing freight invoices, dealing with claims – these all contribute to your overall logistics expenses. Rather than dedicating internal, fixed resources to such activities, you may consider working with a reputable third-party logistics (3PL) company instead. A good 3P, like Logistics Plus, will be able to leverage all of its business to negotiate better rates with more carriers on your behalf. They will also have a transportation management system (TMS) technology that supports multiple carrier, service, and mode options. They'll be able to help track shipments, audit freight invoices, and consolidate reporting. Lastly, they can scale their resources to appropriately address the fluctuations in your supply chain.
If you're ready to take #8 of these freight shipping tips to heart, the freight experts at Logistics Plus stand ready to help. Use any of the buttons below to get started.