Global Logistics + So Much More!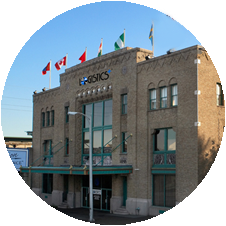 Logistics Plus, Inc. (LP) is a 21st Century Logistics Company™ and a leading worldwide provider of transportation, warehousing, fulfillment, global logistics, business intelligence, technology, and supply chain solutions. Jim Berlin founded the company over 25 years ago in Erie, PA. Today, Logistics Plus has annual global sales of over $500M and over 1,000 employees in 45+ countries worldwide.
Logistics Plus is recognized as one of the fastest-growing privately-owned logistics companies, a top 3PL provider, a top 100 logistics company, a top freight brokerage and warehousing provider, and a great place to work. With our trademark Passion for Excellence™, we put the plus in logistics by doing the big things properly plus the countless little things that ensure complete customer satisfaction and success.
A Global Network of Resources
The Logistics Plus® network includes offices or warehouses located in Erie, PA; Aurora, CO; Buffalo, NY; Charlotte, NC; Chicago, IL; Chino, CA; Cincinnati, OH; Cleveland, OH; Colton, CA; Dallas, TX; Dayton, NJ; Des Moines, IA; Fontana, CA; Haslet TX; Honolulu, HI; Houston, TX; Jamestown, NY; Laredo, TX; Lexington, NC; Los Angeles, CA; Meadville, PA; Miami, FL; New York, NY; Norfolk, VA; Olean, NY; Phoenix, AZ; Riverside, CA; San Francisco, CA; Tulsa, OK; Vancouver, WA; Australia; Brazil; Canada; China; Colombia; Czech Republic; Egypt; France; Germany; India; Indonesia; Japan; Kazakhstan; Libya; Malaysia; Mexico; Netherlands; Poland; Saudi Arabia; Singapore; South Africa; Taiwan; Thailand; Turkey; UAE; Ukraine; and Vietnam; with additional agents around the world.
Meet Jim Berlin (Founder & CEO)

After a 20-year career in the less-than-truckload (LTL) industry, most of that time spent at TNT/USF Red Star, Jim founded Logistics Plus in 1996 with only three employees, one customer, and a $120,000 purchase order. Though he is a New York City native, Jim has invested heavily in the community's economic development since relocating to Erie, PA. In 2003, he renovated the 80-year-old former train station and made it the company's global headquarters, and he actively participates in many civic initiatives. In addition to many company awards, Jim has been honored as a Most Admired CEO by the Manufacturer and Business Association (MBA), and Ernst & Young (EY) recognized Jim as Western Pennsylvania's "Entrepreneur of the Year" in 2004. In 2005 he was named to the lifelong EY Entrepreneur of the Year World Hall of Fame. In addition to his company and community activities, Jim is also a member of the Business Advisory Council for the Federal Reserve Bank of Cleveland.
Here's a short, 2-minute video of Jim from 2015 (we've grown a lot since then, but much remains valid).