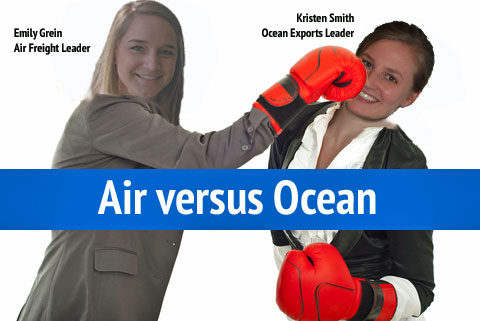 Logistics Plus (LP) provides logistics services within and across all national borders and using all modes of transportation. Air freight forwarding and ocean freight forwarding services come into play more often than not on international shipments. On the LP International team, Emily Grein is our lead air freight specialist and Kristen Smith is our lead ocean freight specialist.  We asked these two to square-off in order to better understanding the pros and cons of shipping air freight versus ocean freight. Although Emily, Kristen, and their teams are intimately immersed in either air or ocean transportation, their top priority is always to ensure the right mode is selected for the needs of each customer (which, in some cases, can include both ocean and air).
When considering the choice between air and ocean freight forwarding, the top three factors to consider are generally reliability, speed, and cost. Whether you ship via air or via ocean, each requires some level of expertise to understand how these three factors will be impacted; and each has a different set of rules, regulations, and best-practices practices.
RELIABILITY
Airfreight is more convenient and faster even though flights can get delayed by weather and other circumstances. There are usually daily air flights back and forth and between major cities around the world. Ocean carrier sailings, on the other hand, are generally weekly or every other week depending upon the trade lane. This means that if a cut-off time is missed at a seaport, there will be a longer delay. There is also the possibility of exposure to weather conditions and goods being damaged due to the wait at the ports of transfer. Lastly, the longer, more stringent schedule of ocean service may not always line up with business expectations.
SPEED
It should be no surprise that shipping by air is usually much faster than by ocean. Air shipments can take up to a few days while shipping by ocean can take anywhere from a few weeks to months to arrive; however, more efficient routes are being created and ships are getting faster, meaning shipments crossing the ocean are taking less time.
COST
For many businesses, cost can be a very crucial factor which can influence the decision to ship by air or ocean freight. Shipping your items by air is more expensive than ocean freight. Expect to pay between 5-6 times more to ship by air versus ocean transportation. With both air and ocean, costs are directly related to the cargo weight, dimensions, value, and distance being shipped. Generally, larger and heavier shipments are often cheaper to ship by ocean, while smaller more valuable shipments are better to ship by air.
The table below shows a few items to consider when deciding whether to ship via air or ocean:
No matter which mode you ship, customs regulations, duties, and fees will come into play on all international imports or exports. Working with a reliable freight forwarder that has in-house customs broker solutions will go a long way towards ensuring your shipment receives expedited customs clearance and that your import/export fees are minimized.
If you need help with air freight forwarding, ocean freight forwarding, imports/exports, or global trade compliance, work with Logistics Plus and enjoy the benefits of having an award-winning supply chain partner on your side.