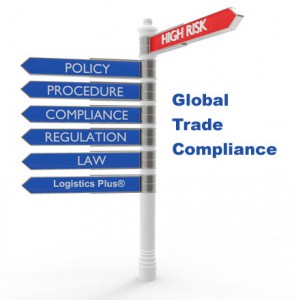 Is your company (or members of your association, chamber, or trade group) involved in the import or export of products or materials? If the answer is yes, then you should consider a Logistics Plus® Compliance Training Program to get a better understanding of the regulations and procedures that must be followed when shipping globally. The Logistics Plus Global Trade Compliance Team is experienced and licensed to help companies with all aspects of international trade. Our training programs are tailored for your industry, and include the following important topics:
Export Regulations & Compliance
How to Create an Effective Export Management Compliance Program (EMCP)
Export Letters of Credit
Understanding NAFTA and other U.S. Free Trade Agreements
Incoterms® 2010 and Creating Export Quotations
Import Entry Process and Security Filings
Duty Drawback and Customs Valuation
And much more!
Visit our website to Learn More about our Global Trade Compliance programs. If you're ready to schedule on-site or online training for your company or organization, or if you'd simply like more information, please contact Adam Mook, our compliance department manager. Even if you're not interested in a full-blown training program, our experts can provide valuable services to help you simplify the complexity of trade regulations and create procedures to keep your company in compliance.
We've provided training for numerous companies, business development offices, and associations. We know that our training and our passion for excellence could save companies thousands of dollars and major headaches on their imports and exports! (Don't believe us? Just read the following Bureau of Industry and Security "Don't Let This Happen to You" document).