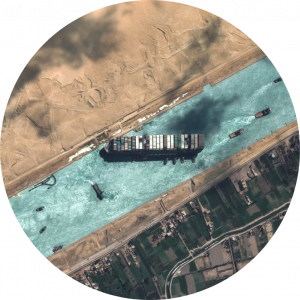 After being blocked for nearly a week, traffic has finally resumed in the Suez Canal. Logistics Plus Founder and CEO Jim Berlin connected with Erie News Now reporter Haley Potter to discuss the blockage's supply chain impact. Even though the canal blockage happened over 5,000 miles away in Egypt, the effects are still felt in the United States.
"Even though the ships will get through more quickly to get rid of the backlog, when you think about it, they are all going to ports, and now the ports will be clogged," Jim told Erie News Now. He added, "We will feel this for a few months, I think."
Since its completion in 1869, the Suez Canal has become one of the world's most important seaways. This human-made waterway enables a more direct route for shipping between Europe and Asia. According to Reuters, about 15% of the world's shipping traffic transits the canal, and an estimated $10 billion worth of goods was disrupted each day the canal was blocked.
Watch the full news story below or using this link: www.erienewsnow.com/local-impacts-from-suez-canal-blockage