Cool news from our very own Jeremy Chaffee. Jeremy manages the Logistics Plus truckload solutions department, and he has been an employee of the company for 16 years.
********************************************************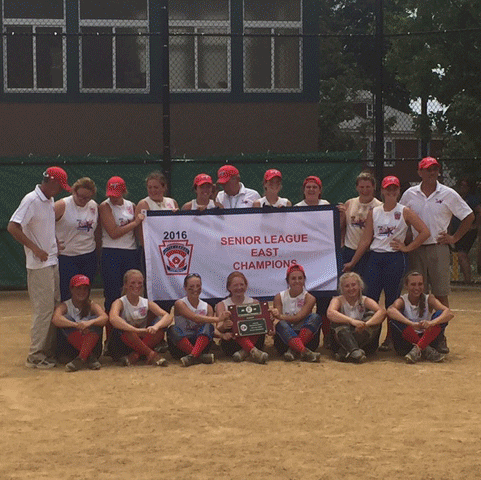 My daughter, Kaylene Chaffee, and her softball team will be competing in the Little League, Senior League Softball World Series from Sunday, July 31 to, August 7th.  Kaylene (#20) is a utility player that usually plays at the Catcher and Shortstop positions.
The USA East / Pennsylvania District 1 Senior Softball team is comprised of girls, 16 years old and under, from 6 different area high schools, General McLane, Cambridge Springs,  Saegertown, Cochranton, Titusville, and Conneaut Area Senior High.  Each player had to distinguish themselves in 12 regular season Little League games and then try out and make the District 1 All Star team cut.  After that, in order to progress this far, the team has already had to place first in a series of tournaments including the Pennsylvania Section 1 Tournament and the Pennsylvania State Tournament, and, just this past week, the East Region Tournament  where these ladies traveled to Worcester, MA and spent a week competing against 11 other state championship teams from ME, VT, NH, MA, NY, NJ, RI, NJ, DE, and MD.
The girls leave on a bus Saturday morning to the Senior League Softball World Series in Sussex, DE where they will spend the following week competing daily against 9 other championship teams from around the world, including 5 other US regional teams, Canada, Asia Pacific, Latin America, and Europe-Africa, for a chance to compete in the Semi Finals and World Series Final that will be broadcast next weekend on ESPN 3 and ESPN.
This team is a wonderful group of fun and extremely talented young athletes who are completely dedicated to their sport, and I'm excited that my daughter is among them.  Most of these young ladies have both played with and competed against each other since they were 6 years old on various Little League, travel ball, and high school softball teams, and to see them all together now representing our local area, the state of Pennsylvania, and the Northeastern US is just amazing.  It has already been a fantastic adventure to see not only how this team has come together, but also how the community has rallied around them.  When they won the PA state title, the team had just 5 days to raise the over $11,000 necessary to fund the trip to the East Tournament in Worcester.  Local businesses, organizations, and individuals contributed generously and they easily surpassed that goal to make that trip a reality.  The experience of travelling to Massachusetts and now to Delaware to compete against the best teams in the world has already been a fantastic experience, and, win or lose, it is something that these girls, and their proud families, will never forget.
Anyone can follow the girls progress next week at http://www.seniorsoftballws.org/ and on the team's Facebook page at https://www.facebook.com/groups/1001783353262305/.
For more information about Little League and the Senior League Softball World Series, see http://www.seniorsoftballws.org and http://www.littleleague.org