FOR IMMEDIATE RELEASE
Logistics Plus Acquires Lynx Fulfillment, LLC
All Lynx Fulfillment, LLC assets and employees will be rebranded as Logistics Plus Fulfillment Solutions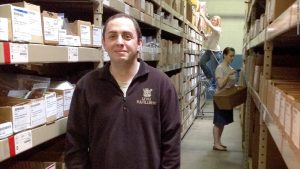 ERIE, PA (November 2, 2017) – Logistics Plus Inc., a leading worldwide provider of transportation, logistics and supply chain solutions, announced today that it has acquired complete ownership of Lynx Fulfillment, LLC. Prior to the acquisition, Lynx Fulfillment was partially-owned by Logistics Plus. As part of the agreement, Lynx Fulfillment will be rebranded as Logistics Plus Fulfillment Solutions (aka LP Fulfillment). Additionally, Patrick Randolph, the Managing Director and partial-owner of Lynx Fulfillment, has joined Logistics Plus to head up its fast-growing LP Fulfillment division.
Lynx Fulfillment is based in Olean, NY with over 40,000 square feet of dedicated warehousing and fulfillment space. It has a second 10,000 square-foot operation located in Carson, CA. The company, which specializes in customized pick, pack, and ship order fulfillment solutions, has over 60 clients and employs over a dozen experienced warehousing, fulfillment and customer service specialists. All assets and employees were transitioned to Logistics Plus effective November 1, 2017.
"This is great news for both Lynx and LP clients," said Randolph.  "Lynx clients will enjoy the same personalized and professional services they had before, but now, as part of a larger, global organization, they'll have access to additional services and resources. LP clients benefit by getting ready-access to additional warehousing and fulfillment capabilities, which now include well over one-million square feet of warehousing space at multiple locations across North America."
"We're excited to welcome Patrick and the Lynx Fulfillment team into the larger Logistics Plus family," said Jim Berlin, founder and CEO for Logistics Plus. "Our fulfillment solutions continue to be an area of high-growth and high-interest for us. As an approved member of the Amazon Solutions Provider Network, I see even more growth opportunities for us going forward. Having Patrick and his team on board will really take this key area to the next-level."
Learn more about Logistics Plus Fulfillment Solutions at www.logisticsplus.com/fulfillment.
About Lynx Fulfillment, LLC
Lynx Fulfillment, LLC is a leader in the warehousing and fulfillment industry. Its business model has been designed to deliver fast and accurate order fulfillment services, exceptional technology and dedicated customer service. Lynx Fulfillment guarantees that it will ship every order received by 2 P.M. the same day with 100% accuracy. Lynx Fulfillment, with over a dozen employees, is headquartered in Olean, NY, and has a second operation in Los Angeles (Carson), CA. Learn more at www.lynxfulfillment.com.
About Logistics Plus Inc.
Logistics Plus Inc. provides freight transportation, warehousing, global logistics, and supply chain management solutions through a worldwide network of talented and caring professionals. Founded in Erie, PA by local entrepreneur, Jim Berlin, 21 years ago, Logistics Plus is a fast-growing and award-winning transportation and logistics company. With a strong passion for excellence, its 450+ employees put the "Plus" in logistics by doing the big things properly, and the countless little things, that together ensure complete customer satisfaction and success.
The Logistics Plus® network includes offices located in Erie, PA; Alma, AR; Little Rock, AR; Los Angeles, CA; Riverside, CA; San Francisco, CA; Visalia, CA; Atlanta, GA; Chicago, IL; Detroit, MI; Kansas City, MO; Charlotte, NC; Lexington, NC; Buffalo, NY; Olean, NY; Cleveland, OH; Charleston, SC; Greenville, SC; Nashville, TN; Dallas, TX; Fort Worth, TX; Houston, TX; Laredo, TX; Winchester, VA; Madison, WI; Australia; Bahrain; Belgium; Canada; Chile; China; Colombia; Egypt; France; Germany; Hong Kong; India; Indonesia; Kazakhstan; Kenya; Libya; Mexico; Poland; Saudi Arabia; Singapore; South Sudan; Taiwan; Turkey; UAE; and Uganda; with additional agents around the world. For more information, visit www.logisticsplus.com or follow @LogisticsPlus on Twitter.
Media Contact:
Scott G. Frederick
Vice President, Marketing
Logistics Plus Inc.
(814) 240-6881
scott.frederick@logisticsplus.com
Click image below to download the Logistics Plus logo: