FOR IMMEDIATE RELEASE
Logistics Plus Certified as a 'Great Place to Work'
In anonymous surveys, 95 percent of Logistics Plus employees say it is a great workplace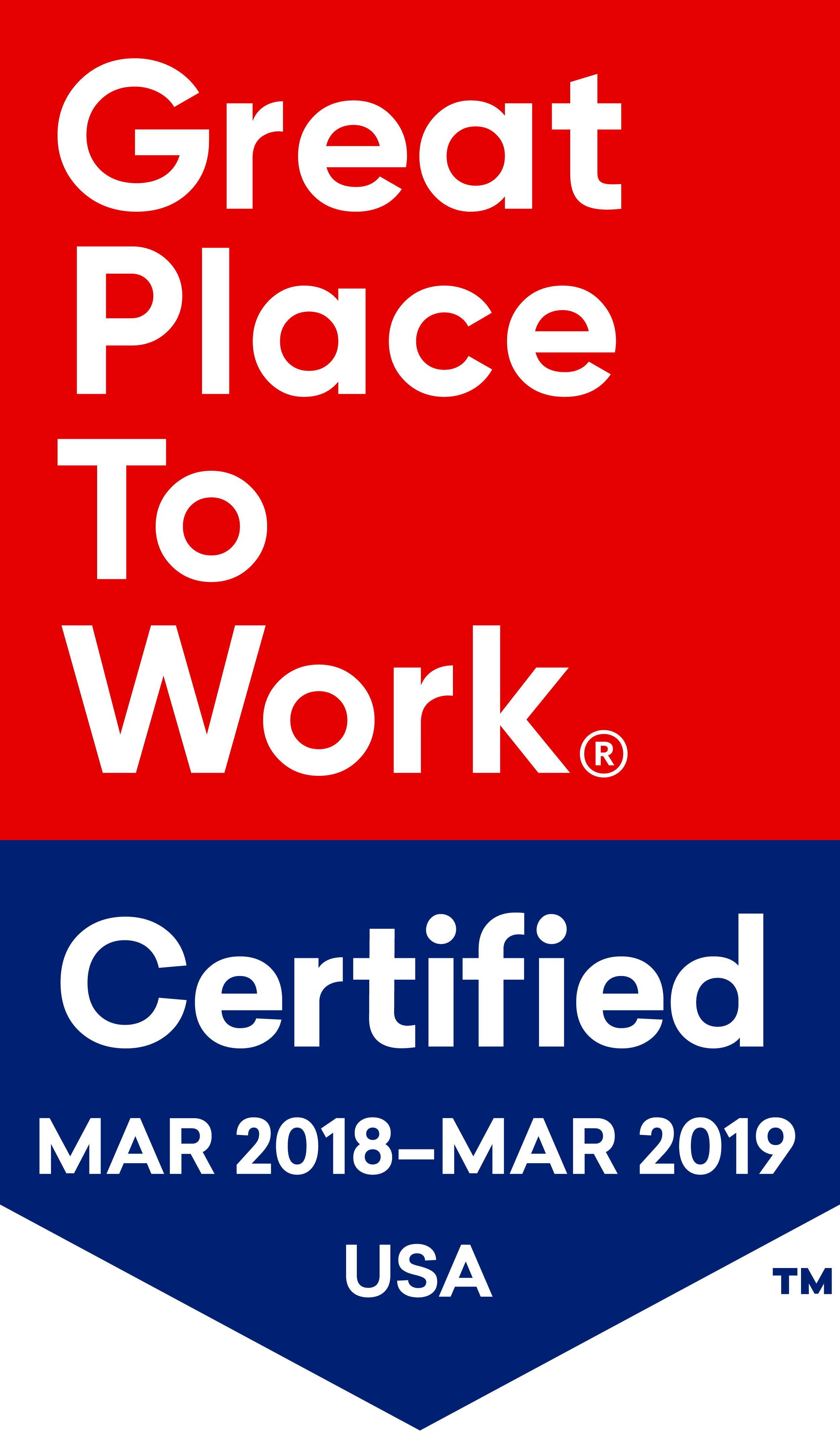 ERIE, PA (March 15, 2018) – Logistics Plus Inc., a leading worldwide provider of transportation, logistics and supply chain solutions, is proud to announce that it has been certified as a great workplace by the independent analysts at Great Place to Work®. Logistics Plus earned this credential based on extensive ratings provided by its employees in anonymous surveys. Across the board, Logistics Plus ratings were comparable to the best-in-class benchmarks set by the best small and medium workplaces certified in 2017. A summary of these ratings can be found at http://reviews.greatplacetowork.com/logistics-plus-inc.
"I am very proud of our employees and grateful that they find Logistics Plus a great place to work," said Jim Berlin, founder and CEO of Logistics Plus. "As we continue to enjoy record-growth, creating and maintaining a fun, respectful, high-performance culture is very important to me. Having a great workplace also translates into a positive experience, creative solutions and phenomenal customer service for our customers. It's what I like to call, 'passion for excellence!'"
"According to our study, 95 percent of Logistics Plus Inc. employees say it is a great workplace," says Sarah Lewis-Kulin, Vice President of Great Place to Work Certification & List Production.
"We applaud Logistics Plus for seeking certification and releasing its employees' feedback," said Kim Peters, Executive Vice President of Great Place to Work's Certification Program. "These ratings measure its capacity to earn its own employees' trust and create a great workplace – critical metrics that anyone considering working for or doing business with Logistics Plus Inc. should take into account as an indicator of high performance."
Surveys were completed by over two-thirds of Logistics Plus U.S.-based employees, resulting in a 90 percent confidence level and a margin of error of ± 4.07.
About Great Place to Work®
Great Place to Work® is the global authority on high-trust, high-performance workplace cultures. Through proprietary assessment tools, advisory services, and certification programs, including Best Workplaces lists and workplace reviews, Great Place to Work® provides the benchmarks, framework, and expertise needed to create, sustain, and recognize outstanding workplace cultures. In the United States, Great Place to Work® produces the annual Fortune "100 Best Companies to Work For®" list and a series of Great Place to Work® Best Workplaces lists including lists for Millennials, Women, Diversity, Small and Medium Companies and over a half dozen different industry lists. Learn more at www.greatplacetowork.com.
About Logistics Plus Inc.
Logistics Plus Inc. provides freight transportation, warehousing, fulfillment, global logistics, and supply chain management solutions through a worldwide network of talented and caring professionals. Founded in Erie, PA by local entrepreneur, Jim Berlin, 21 years ago, Logistics Plus is a fast-growing and award-winning transportation and logistics company. With a strong passion for excellence, its 450+ employees put the "Plus" in logistics by doing the big things properly, and the countless little things, that together ensure complete customer satisfaction and success.
The Logistics Plus® network includes offices located in Erie, PA; Little Rock, AR; Los Angeles, CA; Riverside, CA; San Diego, CA; San Francisco, CA; Visalia, CA; Atlanta, GA; Chicago, IL; Detroit, MI; Lexington, NC; Buffalo, NY; New York, NY; Olean, NY; Akron, OH; Cleveland, OH; Charleston, SC; Nashville, TN; Dallas, TX; Fort Worth, TX; Houston, TX; Laredo, TX; Winchester, VA; Madison, WI; Australia; Bahrain; Belgium; Brazil; Canada; Chile; China; Colombia; Czech Republic; Egypt; France; Germany; Hong Kong; India; Indonesia; Kazakhstan; Kenya; Libya; Mexico; Netherlands; Poland; Saudi Arabia; Singapore; South Sudan; Taiwan; Turkey; UAE; Uganda; and United Kingdom; with additional agents around the world. For more information, visit www.logisticsplus.com or follow @LogisticsPlus on Twitter.
Media Contact:
Scott G. Frederick
Vice President, Marketing
Logistics Plus Inc.
(814) 240-6881
scott.frederick@logisticsplus.com
Click image below to download the Logistics Plus logo: