NEWS RELEASE – FOR IMMEDIATE RELEASE
Logistics Plus Coordinates Delivery of Monster-Sized Trailer
Massive Rogers Brothers Corporation Trailer Moved from Albion, PA to Houston, TX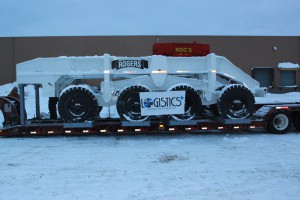 ERIE, PENNSYLVANIA, January 20, 2015 – Logistics Plus Inc., a worldwide provider of transportation and logistics services, reported today that is has successfully completed a unique cargo logistics project for Rogers Brothers Corporation. The project was nearly two years in the making and culminated with a 220-ton capacity trailer being loaded for transport in Albion, Pennsylvania, and then delivered to the Port of Houston in Texas where it will be shipped breakbulk to Peru.
Rogers Brothers Corporation designed and manufactured the trailer, its largest since WWII, for Peru Southern Copper Mine Corp.  The massive trailer is designed to haul large mining equipment off-road and is two-to-three times larger than a standard highway trailer.  Fully assembled, it has a 220-ton capacity, is over 100 feet long, 20 feet wide, and is capable of hauling 440,000 pounds.  Each one of its 24 tires is made of solid rubber, with no air, and weighs close to 1,000 pounds.
A team of Logistics Plus professionals have been involved off and on over the past two years to assist the Rogers Brothers staff in costing, planning, quoting, surveying, and finally coordinating and loading the trucks.  Because the trailer was so large, Logistics Plus needed to coordinate six over-dimensional trailer loads to legally move it on U.S. highways.
"As often is the case, some 'behind the scenes' hiccups and weather issues made things interesting," said Jeremy Chaffee, truckload solutions manager for Logistics Plus. "In the end, the combined team battled through a snowstorm, ice, and cold to load all six truckloads in just over eight hours. The shipment delivered on schedule to the Port of Houston and the customer couldn't be happier."
About Rogers Brothers Corporation       
Rogers Brothers Corporation, based in Albion, Pennsylvania, manufactures superior quality low-bed heavy-hauler semi-trailers under the trade name ROGERS®. For 100 years, ROGERS has manufactured The Ultimate in Trailers® for customers in over 65 countries around the world. Thousands of ROGERS trailers are used by construction, transportation, utility and mining companies; the military; and local, state, and federal governments. Visit them online at www.rogerstrailers.com
About Logistics Plus Inc.               
Logistics Plus Inc. provides freight management, global logistics, and business solutions through a worldwide network of talented and caring professionals. Founded in Erie, PA by local entrepreneur Jim Berlin nearly 20 years ago, Logistics Plus has been repeatedly recognized as one of the fastest-growing transportation and logistics companies in the country. With a strong passion for excellence, its 350+ employees put the "plus" in logistics by doing the extra little things needed to ensure its customers' success.
The Logistics Plus® network includes offices located in Erie, PA; Fresno, CA; Los Angeles, CA; San Francisco, CA; Evansville, IN; Kansas City, MO; Lexington, NC; Cleveland, OH; Charleston, SC; Greensville, SC; Nashville, TN; Dallas, TX; Fort Worth, TX; Laredo, TX; Houston, TX; Australia; Bahrain; Belgium; Canada; Chile; China; Colombia; France; Germany; India; Indonesia; Kazakhstan; Libya; Malaysia; Mexico; Poland; Saudi Arabia; Singapore; Turkey; and additional agents around the world. For more information, visit www.logisticsplus.com or follow @LogisticsPlus on Twitter.
Media Contact:
Scott G. Frederick
Vice President, Marketing
Logistics Plus Inc.