FOR IMMEDIATE RELEASE
Logistics Plus Dallas Branch Wins 2014 Award
CEO of Logistics Plus presents Jenny Melgert with the Branch Manager of the Year award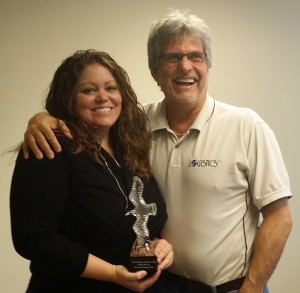 DALLAS, TEXAS, December 9, 2014 – Jenny Melgert, Dallas branch manager for Logistics Plus Inc., a worldwide provider of transportation and logistics services, was presented with the company's 2014 Branch Manager of the Year Award. Logistics Plus has over 36 branch offices across 20 countries around the world.
Melgert and her local team earned the annual award by leading the Dallas/Irving office to approximately 30% revenue growth in 2014 which surpassed other comparable Logistics Plus branch offices during the year – a significant achievement as part of a company that was recently named one of the fastest-growing private companies in America by Inc. magazine. In addition to managing the 15 employees located in the greater Dallas area, Melgert also manages pricing activities, carrier relationships, and an 80,000 square-foot warehouse facility located in Fort Worth, TX. The entire operation joined the Logistics Plus network in April 2011 when it was purchased as part of the Horizon Logistics acquisition.
"Jenny is always hands-on, straightforward, and resourceful and has been putting together the right team in place to handle the current business and the future growth," commented Jim Berlin, CEO, and founder of Logistics Plus. "She maintains a great sense of humor and positive spirit – and she still finds time to raise her three beautiful daughters, Alex, Maddy, and Charlie, who was born this year. Jenny is one of the shining stars at Logistics Plus and very much deserves this award."
***************************
About Logistics Plus Inc.
Logistics Plus Inc. provides freight management, global logistics, and business solutions through a worldwide network of talented and caring professionals. Founded in Erie, PA by local entrepreneur Jim Berlin nearly 20 years ago, Logistics Plus has been repeatedly recognized as one of the fastest-growing transportation and logistics companies in the country. With a strong passion for excellence, its 350+ employees put the "plus" in logistics by doing the extra little things needed to ensure its customers' success.
The Logistics Plus® network includes offices located in Erie, PA; Los Angeles, CA; San Francisco, CA; Chicago, IL; Evansville, IN; Lexington, NC; Cleveland, OH; Dallas, TX, Laredo, TX; and Houston, TX; Australia; Belgium; Canada; Chile; China; Columbia; Czech Republic; France; Germany; India; Indonesia; Kazakhstan; Libya; Malaysia; Mexico; Poland; Singapore; Turkey; and additional agents around the world. For more information, visit http://www.logisticsplus.com or follow @LogisticsPlus on Twitter.
Media Contact:
Scott G. Frederick
Vice President, Marketing
Logistics Plus Inc.
(814) 240-6881