This is a reprint of the article that appeared in the August 2020 edition of Lake Erie Lifestyle magazine by Erie Times-News.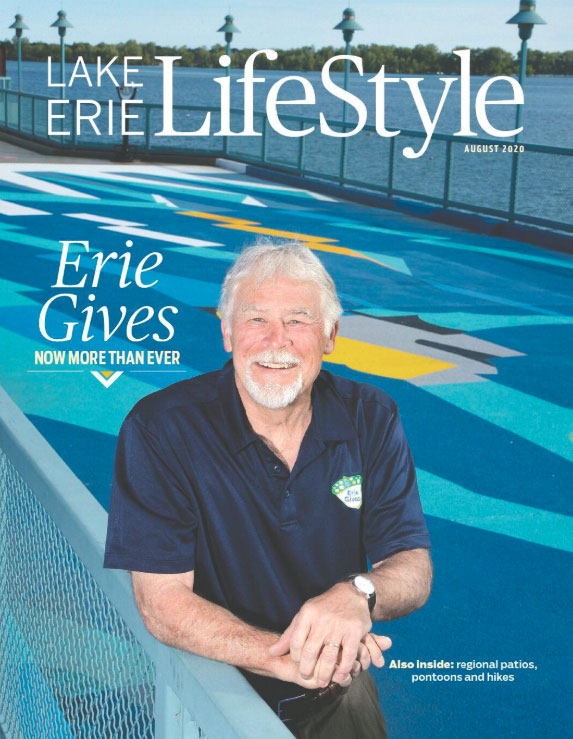 Logistics Plus Delivers PPE to Frontline Heroes
Every employee at Logistics Plus prides themselves on finding solutions to the most difficult of transportation issues.
So, the Logistics Plus team didn't hesitate to begin looking for solutions when a lack of PPE — or personal protective equipment — was putting frontline workers at risk during the first months of the COVID-19 crisis.
In the first uncertain days of the crisis, Logistics Plus Founder and CEO Jim Berlin created a COVID-19 Response Team. Their job was to find, buy, warehouse, and ship FDA-approved PPE to hospitals, care centers, nursing homes, fire departments, police departments, and schools throughout Pennsylvania and beyond. They even configured a warehouse facility in Erie to store and distribute PPE to essential organizations and businesses across the region.
The team faced challenges every step of the way, Berlin said. Soaring PPE demand meant last-minute canceled orders, quality control issues, and even attempted theft. In addition, the rapidly evolving COVID-19 situation meant changing export rules in both China and the United States, and airport charters being overwhelmed by demand.
But the Logistics Plus team persevered, as it always does. And, as it always does, the Logistics Plus team delivered.
"I am so proud of my team," Berlin said. "They successfully sourced, procured, transported, and delivered millions of pieces of PPE in record time. When no one could find and get these, we did."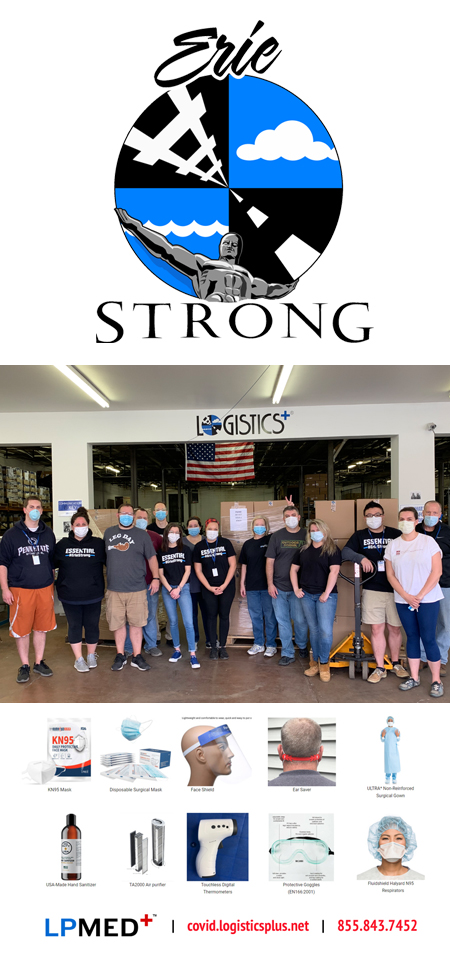 'A beacon of light'
Customers, both new and old, were blown away by the ability Logistics Plus had to deliver PPE when they'd been unable to obtain it elsewhere. The company even delivered 1 million face-shields to the state of Pennsylvania.
"You are a beacon light during this time. On behalf of our team of caregivers, thank you for your kindness," one hospital official emailed to the Logistics Plus team after obtaining PPE through the Erie-based logistics company.
Berlin is known for going above and beyond not just by his customers, but in his support of the city of Erie, where the company made its headquarters 24 years ago.
That's why Erie Mayor Joe Schember knew Logistics Plus was the company to contact when the city was gifted 50,000 PPE masks from Erie's sister city of Zibo, China. Logistics Plus facilitated the customs clearance and paperwork, took possession of the shipment, and then arranged complimentary transportation of the 23 cartons from Chicago to Erie at no extra cost to the city.
"Helping Mayor Schember and the city get these masks from Chicago to Erie and in the hands of our frontline government workers was an easy decision," Berlin said. "Together we are 'Erie Strong.'"
###
Click here for a preview of the article as it appeared in the magazine.
###