FOR IMMEDIATE RELEASE
Logistics Plus India Wins 140 MW Solar Logistics Project
800 Containers Being Transported from Malaysia to India for Azure Power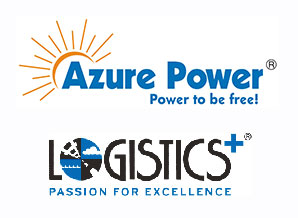 ERIE, PENNSYLVANIA, November 2, 2015 – Logistics Plus Inc., a worldwide provider of transportation, logistics and supply chain solutions, announced today that its India division has won a major logistics project for Azure Power. As part of the project, 800 forty-foot high-cube (HQ) containers will be transported from the First Solar manufacturing facility in Malaysia and delivered to Azure Power in India.  The end-to-end logistics project will take approximately six months to complete and will provide 140 megawatts (MW) of solar power to the southern region of India.
"We are excited to have been awarded this great opportunity to help Azure Power bring solar energy to India," said Sundreysh Sarup, Managing Director for Logistics Plus India. "This project is a confirmation of our solar industry expertise and a continuation of our ongoing focus to provide logistics solutions to solar energy companies around the world."
The new cargo project is one of many that Logistics Plus has handled over the past several years for the solar energy industry. Last year, Logistics Plus worked with another global solar power company on a logistics project to coordinate delivery of three million solar panels to the world's largest solar panel farm (at the time) in southern California. Earlier this year, Logistics Plus worked on a similar logistics project to manage delivery of solar panels to Central America.
About Azure Power
Azure Power is India's leading independent solar power producer and offers clean and affordable solar energy to its customers with zero upfront cost and operational expenses. Azure Power's vision is to prove that solar energy is the most affordable and reliable power generation source for forward-thinking power consumers. The basic purpose of Azure Power is to be the lowest cost producer of solar power in the world. By providing solar energy as a service, Azure Power manages the entire project process for its customers, reduces costs of generating electricity, and provides long term predictable pricing. For more information, please visit www.azurepower.com
About Logistics Plus Inc.
Logistics Plus Inc. provides freight transportation, warehousing, global logistics, and supply chain management solutions through a worldwide network of talented and caring professionals. Founded in Erie, PA by local entrepreneur, Jim Berlin, 20 years ago, Logistics Plus has been repeatedly recognized as one of the fastest-growing transportation and logistics companies in the country. With a strong passion for excellence, its 350+ employees put the "Plus" in logistics by doing the big things properly, and the countless little things, that together ensure complete customer satisfaction and success.
The Logistics Plus® network includes offices located in Erie, PA; Fresno, CA; Los Angeles, CA; San Francisco, CA; Evansville, IN; Detroit, MI; Kansas City, MO; Charlotte, NC; Lexington, NC; Buffalo, NY; Cleveland, OH; Charleston, SC; Greenville, SC; Nashville, TN; Dallas, TX; Fort Worth, TX; Laredo, TX; Houston, TX; Bahrain; Belgium; Canada; Chile; China; Colombia; Egypt; France; Germany; India; Indonesia; Kazakhstan; Libya; Mexico; Poland; Saudi Arabia; Turkey; and UAE; with additional agents around the world. For more information, visit www.logisticsplus.com or follow @LogisticsPlus on Twitter.
Media Contact:
Scott G. Frederick
Vice President, Marketing
Logistics Plus Inc.
(814) 240-6881
scott.frederick@logisticsplus.com