FOR IMMEDIATE RELEASE
Logistics Plus Named a Top Finalist for DevelopErie Employer of the Year Award
The final winner of the award will be announced on January 22, 2015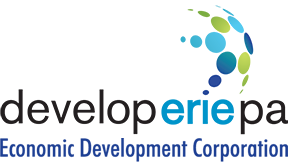 ERIE, PENNSYLVANIA, December 11, 2014 – Logistics Plus Inc., a worldwide provider of transportation and logistics services, announced today it has been chosen as one of the top six finalists for the DevelopErie's Employer of the Year Award. DevelopErie, formerly the Economic Development Corporation (EDC) of Erie County, serves as the lead economic development agency for the Erie, Pennsylvania region. DevelopErie is a private-public partnership comprised of four non-profits and three public authorities.
"This award was created to recognize organizations for their investment in the community, buildings, equipment, and employee development," said Regina Smith, Chief Operating Officer for DevelopErie. "The Logistics Plus story is truly one of continued growth, sheer excellence, and overall dedication to the greater Erie community."
A vote by the EDC Executive Committee will determine the winner of the award which will be kept confidential until the formal presentation at its 33rd Annual Awards Dinner on January 22, 2015. On the night of the event, DevelopErie will announce the second and first runners-up, respectively, before the final winner is declared.
"We are very proud to be considered for this top award," said Jim Berlin, CEO, and founder of Logistics Plus. "Just to be chosen as a finalist for the top employer award is a testament to the great work our thoughtful and talented employees do for our company and for the community each and every day."
To learn more about DevelopErie, please visit www.developerie.com.
************************
About Logistics Plus Inc.
Logistics Plus Inc. provides freight management, global logistics, and business solutions through a worldwide network of talented and caring professionals. Founded in Erie, PA by local entrepreneur Jim Berlin nearly 20 years ago, Logistics Plus has been repeatedly recognized as one of the fastest-growing transportation and logistics companies in the country. With a strong passion for excellence, its 350+ employees put the "plus" in logistics by doing the extra little things needed to ensure its customers' success.
The Logistics Plus® network includes offices located in Erie, PA; Los Angeles, CA; San Francisco, CA; Chicago, IL; Evansville, IN; Lexington, NC; Cleveland, OH; Dallas, TX, Laredo, TX; and Houston, TX; Australia; Belgium; Canada; Chile; China; Columbia; Czech Republic; France; Germany; India; Indonesia; Kazakhstan; Libya; Malaysia; Mexico; Poland; Singapore; Turkey; and additional agents around the world. For more information, follow @LogisticsPlus on Twitter.
Media Contact:
Scott G. Frederick
Vice President, Marketing
Logistics Plus Inc.