FOR IMMEDIATE RELEASE
Logistics Plus Re-Certified as a 'Great Place to Work'
In anonymous surveys, 100 percent of Logistics Plus employees say it is a great workplace.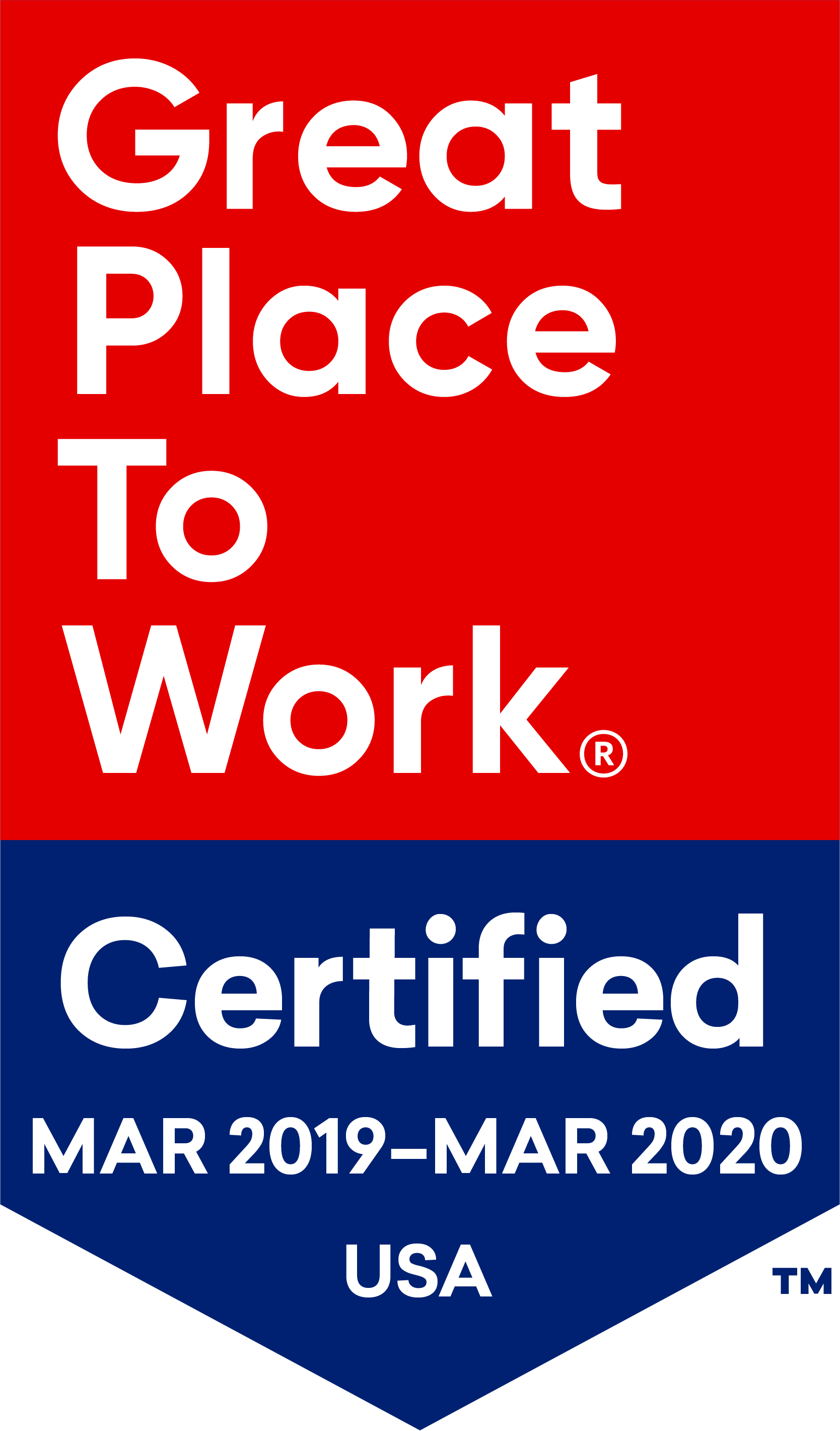 ERIE, PA (March 12, 2019) – Logistics Plus Inc., a leading worldwide provider of transportation, logistics and supply chain solutions, is proud to announce that it has been re-certified as a great workplace by the independent analysts at Great Place to Work®. This is the second consecutive year that the company has been certified. Across the board, Logistics Plus ratings were better than the best-in-class benchmarks set by the best small and medium workplaces certified in 2018.
According to the results of anonymous surveys, 100 percent of Logistics Plus Inc. employees say it is a great workplace. Employees also rated the company higher than best-in-class benchmarks across several dimensions, including credibility, respect, pride, and camaraderie. A company profile and ratings summary can be viewed online at: https://www.greatplacetowork.com/certified-company/7008084.
"I am proud that our employees find Logistics Plus to be a great place to work," said Jim Berlin, founder and CEO of Logistics Plus. "We have literally doubled in size the past couple years, so maintaining a fun, respectful, high-performance culture is very important to me. Our tagline is 'passion for excellence' but it's really more than that. Clearly our employees embody that passion, making this not only a great workplace, but it also translates into phenomenal service for our customers."
About Great Place to Work®
Great Place to Work® is the global authority on high-trust, high-performance workplace cultures. Through proprietary assessment tools, advisory services, and certification programs, including Best Workplaces lists and workplace reviews, Great Place to Work® provides the benchmarks, framework, and expertise needed to create, sustain, and recognize outstanding workplace cultures. In the United States, Great Place to Work® produces the annual FORTUNE "100 Best Companies to Work For®" list and a series of Great Place to Work® Best Workplaces lists including lists for Millennials, Women, Diversity, Small and Medium Companies and over a half dozen different industry lists. Follow Great Place to Work online at www.greatplacetowork.com and on Twitter at @GPTW_US.
About Logistics Plus Inc.
Logistics Plus Inc. provides freight transportation, warehousing, fulfillment, global logistics, business intelligence, technology, and supply chain management solutions through a worldwide network of talented and caring professionals. Founded in Erie, PA by local entrepreneur, Jim Berlin, 22 years ago, Logistics Plus is a fast-growing and award-winning transportation and logistics company. With a strong passion for excellence, its 500+ employees put the "plus" in logistics by doing the big things properly, and the countless little things, that together ensure complete customer satisfaction and success.
The Logistics Plus® network includes offices located in Erie, PA; Little Rock, AR; Los Angeles, CA; Riverside, CA; San Diego, CA; San Francisco, CA; Visalia, CA; Atlanta, GA; Chicago, IL; Detroit, MI; Lexington, NC; Buffalo, NY; New York, NY; Olean, NY; Akron, OH; Cleveland, OH; Charleston, SC; Nashville, TN; Dallas, TX; Fort Worth, TX; Houston, TX; Laredo, TX; Winchester, VA; Madison, WI; Australia; Bahrain; Belgium; Brazil; Canada; China; Colombia; Czech Republic; Egypt; France; Germany; Hong Kong; India; Indonesia; Kazakhstan; Kenya; Libya; Mexico; Netherlands; Poland; Saudi Arabia; Singapore; South Sudan; Taiwan; Turkey; UAE; Uganda; and United Kingdom; with additional agents around the world. For more information, visit www.logisticsplus.com or follow @LogisticsPlus on Twitter.
Media Contact:
Scott G. Frederick
Vice President, Marketing
Logistics Plus Inc.
(814) 240-6881
scott.frederick@logisticsplus.com
Click image below to download the Logistics Plus logo: