FOR IMMEDIATE RELEASE
Logistics Plus Recognizes 2016 National and Regional LTL Carriers of the Year
FedEx Freight Presented with National Award and Dayton Freight Presented with Regional Award.

ERIE, PA (March 2, 2017) – Logistics Plus Inc., a leading worldwide provider of transportation, logistics and supply chain solutions, recently recognized two of its less-than-truckload (LTL) carriers for superior results and performance in 2016. The annual awards were presented to the following carriers in each of two categories:
FedEx Freight was named the 2016 Logistics Plus National LTL Carrier of the Year (Estes Express and UPS Freight were both runners up in this category)
Dayton Freight Lines was named the 2016 Logistics Plus Regional LTL Carrier of the Year (Ward Transport & Logistics and New Penn Motor Express were both runners up in this category)
Performing as a top North American freight brokerage firm, Logistics Plus LTL services are delivered through its proprietary eShipPlus™ transportation management system (TMS) – a complimentary online platform made available to all of its LTL customers. Its annual LTL carrier awards are based on internal and external assessments of the following performance criteria:
Annual Share of Business and Growth
Price Competitiveness
Service Performance
Billing Accuracy
Customer Service
Account Representation
"Logistics Plus has been buying, managing, and delivering LTL services to our many customers for 20 years. Although today we provide many other logistics solutions, LTL remains one of our core offerings," said Scott Frederick, vice president of marketing and LTL carrier relations for Logistics Plus. "Having great, cooperative LTL carrier partners is critical to our LTL services program. We looked at annual performance reports, we polled our internal operations and accounting stakeholders, and we surveyed our end customers; and FedEx Freight and Dayton Freight both came out on top. I am grateful for the support we receive from all of our LTL carrier partners, but I would especially like to thank and congratulate FedEx Freight and Dayton Freight for their excellent performance in 2016."
About FedEx Freight
FedEx Freight is the largest LTL carrier in North America with service throughout the U.S., Canada, Mexico and Puerto Rico, and to the U.S. Virgin Islands. FedEx Freight offers two reliable options: FedEx Freight® Priority, with the fastest published transit times of any nationwide less-than-truckload (LTL) service, and FedEx Freight® Economy for basic LTL freight shipping needs.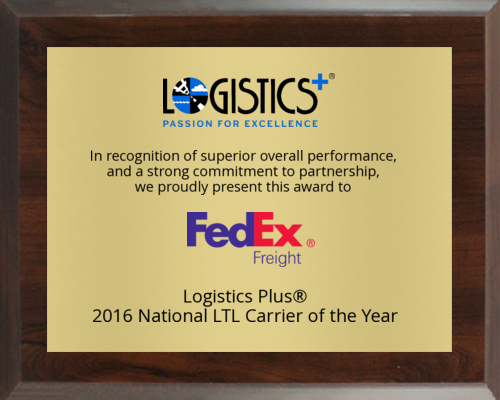 About Dayton Freight Lines
Founded in 1981, Dayton Freight is a private LTL freight carrier headquartered in Dayton, Ohio. With 50 Service Centers in the Midwest region, Dayton Freight offers shippers 1 or 2 day service to thousands of points throughout a 13 state area. With our Strategic Alliance Network, we can serve all of the United States, Canada, Mexico, Puerto Rico and Guam.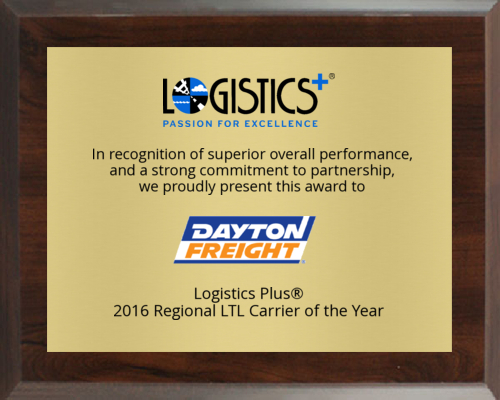 About Logistics Plus Inc.
Logistics Plus Inc. provides freight transportation, warehousing, global logistics, and supply chain management solutions through a worldwide network of talented and caring professionals. Founded in Erie, PA by local entrepreneur, Jim Berlin, 20 years ago, Logistics Plus is a fast-growing and award-winning transportation and logistics company. With a strong passion for excellence, its 400+ employees put the "Plus" in logistics by doing the big things properly, and the countless little things, that together ensure complete customer satisfaction and success.
The Logistics Plus® network includes offices located in Erie, PA; Alma, AR; Little Rock, AR; Los Angeles, CA; Riverside, CA; San Francisco, CA; Visalia, CA; Atlanta, GA; Chicago, IL; Detroit, MI; Kansas City, MO; Charlotte, NC; Lexington, NC; Buffalo, NY; Cleveland, OH; Charleston, SC; Greenville, SC; Nashville, TN; Dallas, TX; Fort Worth, TX; Houston, TX; Laredo, TX; Madison, WI; Bahrain; Belgium; Canada; Chile; China; Colombia; Egypt; France; Germany; India; Indonesia; Kazakhstan; Kenya; Libya; Mexico; Poland; Saudi Arabia; South Sudan; Turkey; UAE; and Uganda; with additional agents around the world. For more information, visit www.logisticsplus.com or follow @LogisticsPlus on Twitter.
###
Media Contact:
Scott G. Frederick
Vice President, Marketing
Logistics Plus Inc.
(814) 240-6881
scott.frederick@logisticsplus.com
Click image below to download the Logistics Plus logo: