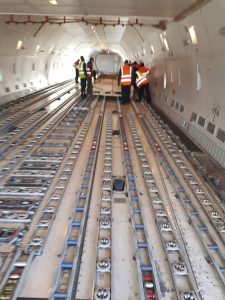 The Logistics Plus Saudi Arabia team recently arranged the transport of 80 tons of boiler tubes from Germany to Jeddah airport on a door-to-door basis. The client is one of the largest independent, family-owned group of companies in the Gulf region with business activities across the world. They are a renowned name in the Middle East for power and industrial projects. In this particular situation, the destination was a government-owned power plant.
This project proved to be urgent as the power plant couldn't properly operate without the boiler tubes. The initial plan was to charter a flight, but due to Covid-19, it became difficult to secure the necessary landing permits. The Saudi Arabia team decided it was best to split the cargo between two lots in SV freighter planes. After carefully planning the freighters to Jeddah airport, the Saudi Arabia team also managed the trucking from the airport to the power plant. Much to the client's satisfaction, the Logistics Plus team successfully delivered the boiler tubes without any additional delays.
Logistics Plus Dammam Managing Director Nizam Mohammad said, "A lot of hard work went into this project. Despite being limited to Covid-19 challenges, our team managed to find a solution for this urgent problem." He went on to say, "For the LP Saudi Arabia team, this was a major achievement. Our client was extremely delighted."
You can see pictures from this project below. To learn more about our project cargo expertise, click here.