FOR IMMEDIATE RELEASE
Logistics Plus selected as a member of the new IFLN Global Projects network
Logistics Plus will provide project forwarding services in Mexico and USA as part of the membership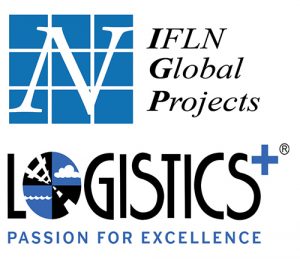 ERIE, PA (September 18, 2017) – Logistics Plus Inc., a leading worldwide provider of transportation, logistics, and supply chain solutions, is proud to announce it has been selected to be an inaugural member of the new IFLN Global Projects network, representing Houston, Mexico City, New York City, and Monterrey.  The new network was officially announced on September 13, 2017 by Michel Vanlerberghe, president of the International Freight Logistics Network (IFLN).
"There are other project cargo networks out there, but this one is different," says Randy Durham, IFLN's general manager, and a long-time project cargo specialist. "IFLN Global Projects network only accepts as members those who are highly proficient project forwarders. We want to be the new force in the world of project logistics management."
Only cargo agents with experience and a high degree of capability in the field of project forwarding will form part of the rapidly expanding group. IFLN Global Projects network can put together a team of highly specialized global project members to support any bid or any project cargo shipping task. IFLN will also make the necessary introductions, coordinate member efforts, and liaise with the customer if needed.
"As a long-time member of IFLN, we are proud to support IFLN with our 20-plus years of project cargo management and project forwarding expertise in the United States and Mexico," says Gabriela Garza, Corporate business development and agent relations manager for Logistics Plus. "Membership provides more companies with access to our award-winning services while providing us with additional exposure and coverage to logistics projects in North America."
About IFLN
IFLN is a global organization of freight forwarders and logistics companies headquartered in Houston, Texas -USA. IFLN Global Projects is affiliated with the IFLN Network, a unique alliance of specially selected members that work together to provide comprehensive supply chain solutions and end-to-end logistics from project initiation to sustainable operations. The IFLN Network, established in 2000, consists of 280 specialist freight companies in more than 100 countries with high standards of quality, conduct, and business practices enabling them to compete with multinational logistics companies on a global basis. To learn more about the new IFLN Global Projects network, please contact Randy Durham at RandyD@ifln.net, or visit www.ifln.net/projects.
About Logistics Plus Inc.
Logistics Plus Inc. provides freight transportation, warehousing, global logistics, and supply chain management solutions through a worldwide network of talented and caring professionals. Founded in Erie, PA by local entrepreneur, Jim Berlin, 21 years ago, Logistics Plus is a fast-growing and award-winning transportation and logistics company. With a strong passion for excellence, its 450+ employees put the "Plus" in logistics by doing the big things properly, and the countless little things, that together ensure complete customer satisfaction and success.
The Logistics Plus® network includes offices located in Erie, PA; Alma, AR; Little Rock, AR; Los Angeles, CA; Riverside, CA; San Francisco, CA; Visalia, CA; Atlanta, GA; Chicago, IL; Detroit, MI; Kansas City, MO; Charlotte, NC; Lexington, NC; Buffalo, NY; Cleveland, OH; Charleston, SC; Greenville, SC; Nashville, TN; Dallas, TX; Fort Worth, TX; Houston, TX; Laredo, TX; Winchester, VA; Madison, WI; Australia; Bahrain; Belgium; Canada; Chile; China; Colombia; Egypt; France; Germany; Hong Kong; India; Indonesia; Kazakhstan; Kenya; Libya; Mexico; Poland; Saudi Arabia; Singapore; South Sudan; Taiwan; Turkey; UAE; and Uganda; with additional agents around the world. For more information, visit www.logisticsplus.com or follow @LogisticsPlus on Twitter.
Media Contact:
Scott G. Frederick
Vice President, Marketing
Logistics Plus Inc.
(814) 240-6881
scott.frederick@logisticsplus.com
Click the image below to download the Logistics Plus logo: