FOR IMMEDIATE RELEASE
Logistics Plus Successfully Completes C-TPAT Membership Revalidation
Customs Trade Partnership against Terrorism (C-TPAT) status confirmed for another three years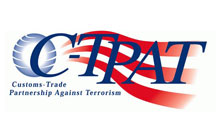 ERIE, Pa. (November 29, 2016) – Logistics Plus Inc., a leading worldwide provider of transportation, logistics and supply chain solutions, is proud to announce its C-TPAT status has been maintained by meeting all of the required revalidation criteria examined as part of a recent U.S. Customs Border and Protection (CBP) audit.  C-TPAT is a program implemented by CBP to strengthen international supply chains and to improve the U.S. border protection and security.
To become a certified C-TPAT member, a security profile that summarizes the procedures of securing the supply chain must be submitted. The Logistic Plus security profile was originally submitted and approved by CBP in 2003, and the company has remained a certified member ever since. Members must undergo a revalidation process every three years, and Logistics Plus continues to meet all of the necessary criteria, including:
Supply Chain Security Risk Assessment
Business Partner Requirements
Container / Conveyance / Transport Security
Procedural Security
Physical Security
Physical Access Controls
Security Training and Threat Awareness
Personnel Security
Information Technology Security
"We are very proud of our revalidation results and being a member of this important partnership," said Adam Mook, compliance manager for Logistics Plus. "As a global operating company, we see it as our duty to comply with international security guidelines to protect our customers and their supply chains against risks and peril."
For additional details, please visit www.logisticsplus.com/certifications.
About Logistics Plus Inc.
Logistics Plus Inc. provides freight transportation, warehousing, global logistics, and supply chain management solutions through a worldwide network of talented and caring professionals. Founded in Erie, PA by local entrepreneur, Jim Berlin, 20 years ago, Logistics Plus is a fast-growing and award-winning transportation and logistics company. With a strong passion for excellence, its 400+ employees put the "Plus" in logistics by doing the big things properly, and the countless little things, that together ensure complete customer satisfaction and success.
The Logistics Plus® network includes offices located in Erie, PA; Alma, AR; Little Rock, AR; Los Angeles, CA; Riverside, CA; San Francisco, CA; Visalia, CA; Atlanta, GA; Chicago, IL; Detroit, MI; Kansas City, MO; Charlotte, NC; Lexington, NC; Buffalo, NY; Cleveland, OH; Charleston, SC; Greenville, SC; Nashville, TN; Dallas, TX; Fort Worth, TX; Houston, TX; Laredo, TX; Madison, WI; Bahrain; Belgium; Canada; Chile; China; Colombia; Egypt; France; Germany; India; Indonesia; Kazakhstan; Kenya; Libya; Mexico; Poland; Saudi Arabia; South Sudan; Turkey; UAE; and Uganda; with additional agents around the world. For more information, visit www.logisticsplus.com or follow @LogisticsPlus on Twitter.
Media Contact:
Scott G. Frederick
Vice President, Marketing
Logistics Plus Inc.
(814) 240-6881
scott.frederick@logisticsplus.com
Click image below to download the Logistics Plus logo: