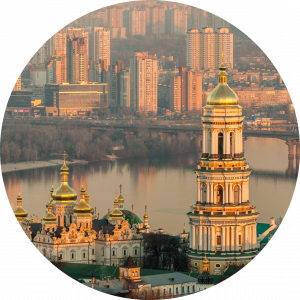 Logistics Plus Ukraine (aka LP Ukraine) is expanding its presence with new offices in Kyiv and Odesa (joining our existing Ivano-Frankivsk office). Logistics Plus added the new offices to its growing global network through the acquisition of Concord-Trans, a successful Ukrainian-based freight forwarder. Some of the primary logistics services offered by this new team include:
Imports and Exports
Airfreight
Ocean freight
Customs and compliance
Project cargo
DOD and Military cargo
Installations
Consulting
LP Ukraine General Manager Oleksandr Korzun shared his excitement about joining the Logistics Plus team. "We are very pleased to join the Logistics Plus team. It is especially nice at such a difficult time for our country. I am very grateful to Logistics Plus for the outstretched hand of help to our employees and Ukraine as a whole. I hope that together with the Logistics Plus team, we will do a lot of good for both the company and Ukraine. Together to victory! Glory to Logistics Plus! Glory to Ukraine!"
Meet The Team
Oleksandr Korzun – General Manager
oleksandr.korzun@logisticsplus.com
Phone: +38-067-220-0029
Andrii Krutyi – Commercial Director
andrii.krutyi@logisticsplus.com
Phone: +38-063-952-5899
Victoria Gribova – Air & Sea Freight Manager
victoria.gribova@logisticsplus.com
Phone: +38-063-149-1433
Oksana Onoprienko– FEA Manager
oksana.onoprienko@logisticsplus.com
Phone: +38-063-149-1433

For any requests involving the Ukraine team, please email ukraine@logisticsplus.com. We thank you for all current business and future opportunities, and we look forward to assisting you.