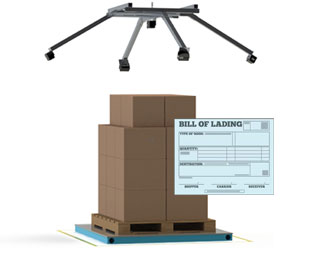 Bill of lading accuracy is as important as ever. The BOL is a legally required document that must be completed before a freight shipment is hauled. A BOL protects both the carrier and the shipper. The document contains detailed information on the type, quantity and destination of the goods being carried. The issuance of the BOL is proof that the carrier has received the goods from the shipper, or their 3PL, in apparent good order and condition, as handed over by the shipper.
Until recently, LTL carriers tolerated some "bending of the rules" regarding accurate freight weights, classifications, and dimensions detailed on the BOL. New tools are helping carriers efficiently and objectively assess freight.  Many LTL terminals now use forklifts with embedded scales.  Terminals are also using ceiling-mounted systems that measure the dimensions and density of every piece of freight.
As a result of these new technologies, and recent rules tariff changes, carriers are tolerating BOL discrepancies no longer. Today, carriers are pursuing every penny of revenue they can get. LTL carriers, in particular, are strictly enforcing terms and policing discrepancies between reported and actual freight characteristics, leading to many unexpected fees for shippers. Freight descriptions that you may have used for years without problems might start triggering fees if they under-report any aspect of your freight's true profile.
An accurate bill of lading is your best defense against these "weight & inspection" – or "W&I" – fees, and against possible rate changes resulting from "re-weighs" or "re-classifications."  Make sure to measure the dimensions of your LTL freight, including packaging, to the furthermost point in each direction.  Some shippers measure the pallet rather than the freight when calculating dimensions. If the freight overhangs the pallet, the overhang must be included in the measurements.
July 2020 Update: With the NMFC now designating more commodities for density-based classifications, preparing an accurate BOL is as important as ever. If you note the wrong weight for a density-based product on your bill of lading, there is a good chance that the LTL carrier will re-weigh your shipment and charge you the higher rate using the same freight class you designated on your BOL rather than adjusting the freight class according to the new weight and dimensions. Specifically, this is how one carrier has worded their new rules tariff item specific to this situation: "In the case where the weight is changed on a shipment that is a density-based item in NMFC, the freight classification on the original bill of lading will be used unless the shipper or consignee can produce irrefutable supporting documentation showing clear evidence of the LxWxH and corresponding weight of each handling unit of the shipment."
Logistics Plus stands ready to help shippers any way it can to avoid W&I fees. Our North American (NAD) operations team can provide consultation on accurate NMFC freight classifications and freight density calculations. We notify you whenever a carrier assesses an unintended W&I fee, and we manage the dispute if you have evidence the fee is not valid.
The freight experts at Logistics Plus will be happy to help you with any questions or issues regarding freight characteristics and bill of lading accuracy. Contact us using the button below or email us at nadops@logisticplus.net if you have any of these types of questions.