Logistics Plus Presents New 'Logistics Careers Plus More For Dummies' Book
Book aimed to help logisticians explore options and develop a road map for their careers.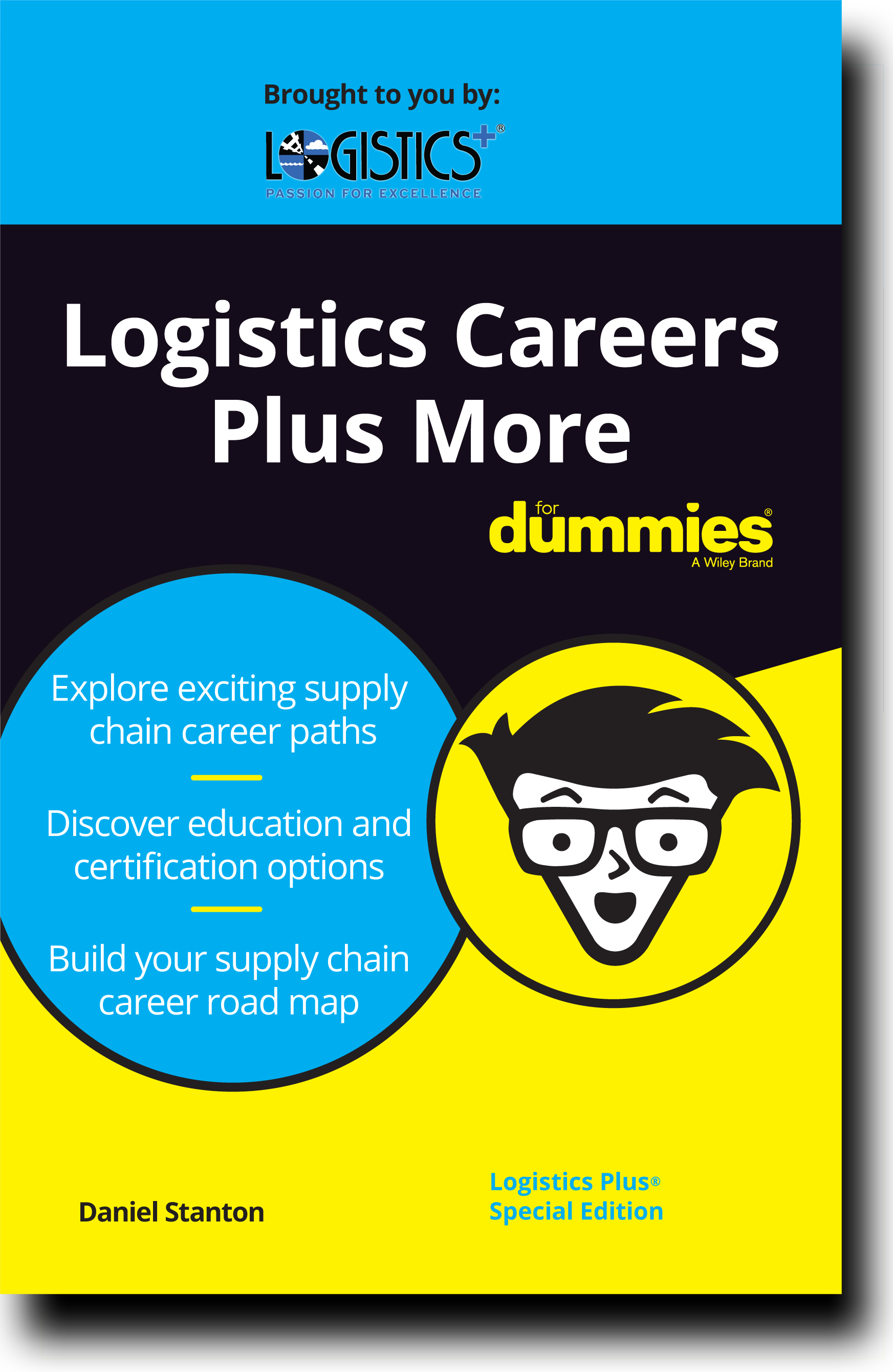 ERIE, PA (June 4, 2019) – Logistics Plus Inc., a leading worldwide provider of transportation, logistics and supply chain solutions, is proud to announce that it has partnered with John Wiley & Sons, publishers of the For Dummies® books series, and author Daniel Stanton, aka 'Mr. Supply Chain,' to present a new Logistics Careers Plus More For Dummies® book.
The logistics industry is critically important to both our national and global economies. More than 50 million people are employed worldwide in the logistics sector. Logistics and supply chain management is about seeing a business as an interconnected system. Logistics Careers Plus More For Dummies explains why pursuing a logistics career is an exciting and rewarding professional opportunity. This book starts by explaining what a supply chain is, and then shows how to plan and manage a career as a successful logistics professional. Whether you're fresh out of high school, or pursuing a college degree, the logistics industry is always looking for professional interns, drivers, planners, specialists, programmers, managers … and leaders.
To download an electronic edition of the book, please visit beta.logisticsplus.com/dummies.
Hard copy editions are available upon request at beta.logisticsplus.com/contactus.
About Daniel Stanton
Daniel Stanton, PMP, CSCP, SCPro, MSCE, MCP, MBA, M Eng is a global executive with expertise in supply chain management and project leadership. He has worked with Caterpillar, the U.S. Navy, APICS, MHI, and several smaller firms. He's also been a professor at Bradley University, Jack Welch Management Institute, and National American University. Daniel is recognized as a LinkedIn Learning Insider, a "Pro to Know" for Supply & Demand Chain Executive Magazine, and a Supply Chain Futurist for IBM Watson Supply Chain. Learn more at www.danielstanton.com.
About John Wiley & Sons, Inc.
Wiley empowers researchers, learners, universities, and corporations to achieve their goals in an ever-changing world. For over 200 years it has been helping people and organizations develop the skills and knowledge they need to succeed. Wiley develops digital education, learning, assessment, and certification solutions to help universities, businesses, and individuals move between education and employment and achieve their ambitions. By partnering with learned societies, it supports researchers to communicate discoveries that make a difference. Its online scientific, technical, medical, and scholarly journals, books, and other digital content build on a 200-year heritage of quality publishing. Learn more at www.wiley.com.
About Logistics Plus Inc.
Logistics Plus Inc. provides freight transportation, warehousing, fulfillment, global logistics, business intelligence, and supply chain management solutions through a worldwide network of talented and caring professionals. The company was founded over 23 years ago in Erie, PA by local entrepreneur, Jim Berlin. Today, Logistics Plus is a highly-regarded fast-growing and award-winning transportation and logistics company. With a Passion For Excellence™, its employees put the "plus" in logistics by doing the big things properly, and the countless little things, that together ensure complete customer satisfaction and success.
The Logistics Plus® network includes offices located in Erie, PA; Little Rock, AR; Los Angeles, CA; Riverside, CA; San Diego, CA; San Francisco, CA; Visalia, CA; Atlanta, GA; Chicago, IL; Detroit, MI; Lexington, NC; Buffalo, NY; New York, NY; Olean, NY; Akron, OH; Cleveland, OH; Charleston, SC; Nashville, TN; Dallas, TX; Fort Worth, TX; Houston, TX; Laredo, TX; Winchester, VA; Madison, WI; Australia; Bahrain; Belgium; Brazil; Canada; China; Colombia; Czech Republic; Egypt; France; Germany; Hong Kong; India; Indonesia; Kazakhstan; Kenya; Libya; Mexico; Netherlands; Poland; Saudi Arabia; Singapore; Taiwan; Turkey; UAE; Uganda; and United Kingdom; with additional agents around the world. For more information, visit beta.logisticsplus.com or follow @LogisticsPlus on Twitter.
###
Media Contact:
Scott G. Frederick
Vice President, Marketing
Logistics Plus Inc.
(814) 240-6881
scott.frederick@logisticsplus.com
Click image below to download the Logistics Plus logo: