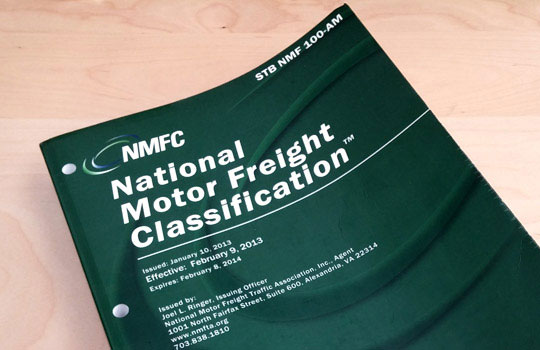 In case you missed it, the Commodity Classifications Standards Board (CCSB) has published a new supplement to the National Motor Freight Classification (NMFC®). These changes became effective 4/25/2020. A few of the notable changes are listed below (thank you for the assist from our friends at Estes Express).
Foodstuffs group – A variety of changes here. The most significant being a new Item 134710 – Meats or Poultry, cooked, cured, dried, dry salted, pickled, smoked (NEW) or preserved, with or without other ingredients.

Sub 1 – Less than 8 pcf – class 150
Sub 2 – 8 but less than 12 – class 100
Sub 3 – 12 or greater – class 70

Organic Peroxides, Item 45463 .

New classes for Types B, C D, E and F.

Bathtubs, Showers, Shower Stalls, Hot Tubs or Spas, Item 158260.

New classes dependent upon packaging and density. Six groupings. Item 158261 is canceled.

183100 TOBACCO, MANUFACTURED, GROUP: Articles consist of Manufactured (NEW) Tobacco, including Cigarettes, Cigars, Chew, Dip or Snuff, as described in items subject to this grouping.

New Item which replaces Cigarettes and Cigars group #47760 and all related items.  New items for the following

Cigars, cigarettes or cigarillos. Three classes dependent upon density
Kits, cigarette making – class 100
Tobacco, smokeless, including Chewing Tobacco (Chew), Dipping(NEW) Tobacco (Dip), Snuff, Plug or Twist – Less than 12 pcf – class 100, greater than 12 pcf – class 77.5
Tobacco, smoking, including Hookah, Shisha or Pipe Tobacco,(NEW) cut or granulated – Three classes dependent upon density.

Household goods, Personal Effects or Military baggage – As modified, the description of item 100250 is amended by addition of the phrase "subject to Full Replacement Value (FRV) coverage," and the last sentence of Note, item 100251, reading "This definition of FRV does not apply on motor vehicles, including automobiles or motorcycles," is removed. These amendments are made for clarification and to better reflect the Defense Transportation Regulations.
Saunas or Steam Baths, portable, – New Item 172740 which replaces 39220. New class is 175.
Sauna or Steam Rooms, combined or not combined with showers – New Item which replaces 170650. New class is 150.
Eyeglasses, Spectacles or Sunglasses, NOI – Item 57830 . Revised and regrouped under two subs. Sub 1 – less than 6 pcf , class 200, sub 2 – 6 or greater, class 125.
Compressors, air, NOI; or Air Ends, NOI – Item 118100. Item 118100 is amended to provide density breaks at 8 and 12 pcf, with classes as shown. Sub 1 is amended to no longer apply on air compressors tendered "protected by a full-height fiberboard cap testing not less than 275 pounds and secured on lift truck skids or pallets." New Note, item 118101 is established to provide additional packaging requirements.
82270 Metallic or Wooden Furniture, NOI, including Freestanding Panels, Partitions or Screens – Items 81550 and 82500 are canceled with reference to the full-scale density-based provisions of item 82270, and as modified, reference to freestanding panels, partitions or screens is added to the description of item 82270. Concurrently, Note, item 82501 is canceled with no further application.
153040 Envelopes, NOI, including Seed Envelopes or Packets, paper or paperboard. Item revised to class 77.5. Items 153030 and 153032 are canceled.
111655 Litter or Bedding, animal, in bags or boxes. Item revised from three density groupings to four density groupings. The density scale in item 111655 is amended by the addition of a break at 8 pcf, assigning class 175 to densities of less than 8 pcf. The noun "Bedding" is added to the description, while the references to "poultry" and "with or without additives" as well as the packaging reference to "drums" are removed.
35085 Partitions or Walls, interior, or Panels therefor, with or without integral (NEW) doors, – New Item which replaces 35040, Has Six density groupings and classes based on Length (exceeding or NOT exceeding 96 inches) and density. Old item was a simple class 70.
Item 680, Sec. 9(a) – Amended to allow alternative methods of securement, while Sec. 9(b) provides specifications for how freight is to be secured on lift truck skids, pallets or platforms. Item 680, Sec. 7(c) and Package 107, which currently refer to Secs. 9(a) or (b), are amended accordingly.
114145 Air Humidifiers, NOI, with blowers or fans and Item 26580 Humidifiers.

Item 26580 is amended by replacing "hot air house heating furnace" with "whole house," and class 150 is assigned. Item 114145 is amended to provide classes based on packaging and density.

49795 Aprons, Coveralls, Laboratory Coats, Pants, Shirts or Clothing, NOI, disposable and 56530 Caps, Hoods, Leggings or Shoe Covers, disposable.

Items 49795 and 56530 are canceled with reference to new item 56545, naming "Clothing, disposable, paper or nonwoven cloth, with or without reinforcement of other materials," at class 150. The new item makes reference to Note, item 56714 for clarification. Note, item 49797 is canceled with no further application, and Note, item 49885 is amended accordingly.

40085 Marshmallows, NOI – Class changed from 85 to Class 175 on less than 7 pcf and 100 on 7 or greater.
53020  Coolers, draft beer dispensing (Kegerators), – Item 53020 is amended to assign class 175, and as modified, the item description is amended to read, "Coolers, draft beer dispensing (Kegerators), see Note, item 53021, other than hand portable, with or without mechanical cooling or freezing apparatus, drainboards or faucets (taps)." Also as modified, new Note, item 53021 is established to clarify that the item "Applies on coolers that dispense beer or other beverages from kegs."
Item 680, Sec. 6(a) – Amended to define "outer containers," while Sec. 6(b) defines "inner containers." Item 680, Secs. 6(c) and 6(d), and the title of the section are concurrently amended for clarification and uniformity.
61840 Extractors, juice (Juicers), countertop, – Amended from a single class 77.5 to provide less than 7 pcf, class 175, and greater than 7 pcf, class 100.
196000 Tires, rubber, scrap,. This Item canceled and replaced with  195720 Scrap, rubber tire, other than tires in their original form or shape, class 77.5.
156960 Netting, – amended to provide classes predicated on density breaks at 8 and 12 pcf, and the description is amended by removing the phrase "wound on cores, spools or tubes.
150970 Filter Stock – Amended to provide classes predicated on a density break at 8 pcf, and to remove packaging references to crates and to wrapped bales or bundles.
50312 Compounds, water cleaning or treating, bath, pool, spa or hot tub, – add restrictive language, and refer to new Note, item 50314, stating that the item does not apply on materials regulated by the DOT as hazardous and required to bear a Hazard Class or Hazard Division label. The new Note directs the Classification user to other items for classes applicable to such hazardous materials.
Additional detail is included in the DISPOSITION BULLETIN 1356.