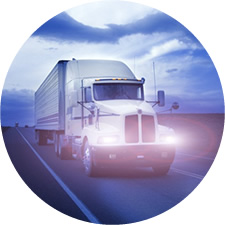 The Logistics Plus North American Division (NAD) is an award-winning freight brokerage team. In the complex world of logistics, our NAD team provides a wide variety of solutions for today's changing transportation world. Whether you have one shipment or thousands of shipments, Logistics Plus will find the right solution for you. Outlined below are only some of the freight solutions we offer across North America.
Less-than-truckload (LTL)
Quoting LTL shipments with Logistics Plus is quick, easy, and free. From 150 to 10,000 pounds, we'll give you a list of competitive LTL rates from the top LTL freight carriers in the industry. We can also accommodate services beyond typical dock-to-dock transportation, including lift gates, notification options, inside deliveries, and more.
Guaranteed & Expedited Freight
Our expedited freight services give you the peace-of-mind that your critical freight shipments will be delivered quickly and on-time. Anytime and anywhere – our experts will find the right expedited freight solution to fit your needs.
Full & Partial Truckloads
From start to finish, our experienced truckload team will coordinate your shipment every step of the way. Our full and partial truckload service options include dry van, flatbed, step deck, and refrigerated equipment.
Cross-Border Freight (U.S. – Canada – Mexico)
If your freight shipment needs to travel across the border, Logistics Plus can help you arrange transportation, prepare your cross-border shipping documents, clear customs, and resolve any issues before they cause delays. Additionally, our bi-lingual border management staff works with carriers and international agencies to maintain C-TPAT, PIP, and CSA security standards.
Exhibit & Tradeshow Freight
Logistics Plus works with the most reliable exhibit carriers in the industry for your exhibit freight transportation needs. We provide live logistics support from pick up at origin to delivery at the advanced warehouse or trade show floor.
Drayage & Port Services
Our drayage and port services can help you reduce transit time and total cost with our capabilities for transloading and sorting by destination – with final delivery using our comprehensive LTL and truckload solutions. We can also support your storage and warehousing needs across North America.
Rail & Intermodal Freight
Logistics Plus rail and intermodal freight services help you stay competitive with this environmentally friendly transportation mode while keeping you on schedule and budget. If your shipment isn't urgent, this mode of transportation is worth looking into.
Domestic Air & Ocean
For your domestic air or ocean cargo requests, you can get the best combination of service, price, and speed for your U.S. air or ocean freight. Our experts will find the best flight and sailing schedules to get your freight where it needs to be.
Freight Claims Management
Logistics Plus freight claims management can help you achieve efficiency and tight controls for your company. We'll create a successful loss and damage claims process by working together, bringing back valuable money to your bottom-line.
Freight Bill Audit & Payment
Logistics Plus Freight Audit Solutions™ incorporates a comprehensive 3-point check to ensure your small pack, parcel, LTL, truckload, and international freight invoices are accurate, disputes are promptly filed, and that appropriate refunds are received.
Learn more about Logistics Plus North American freight solutions by watching the two videos below.