FOR IMMEDIATE RELEASE
NTL Introduces a New nationaltruckload.net Website
Division of Logistics Plus showcases its truckload services and unique business solutions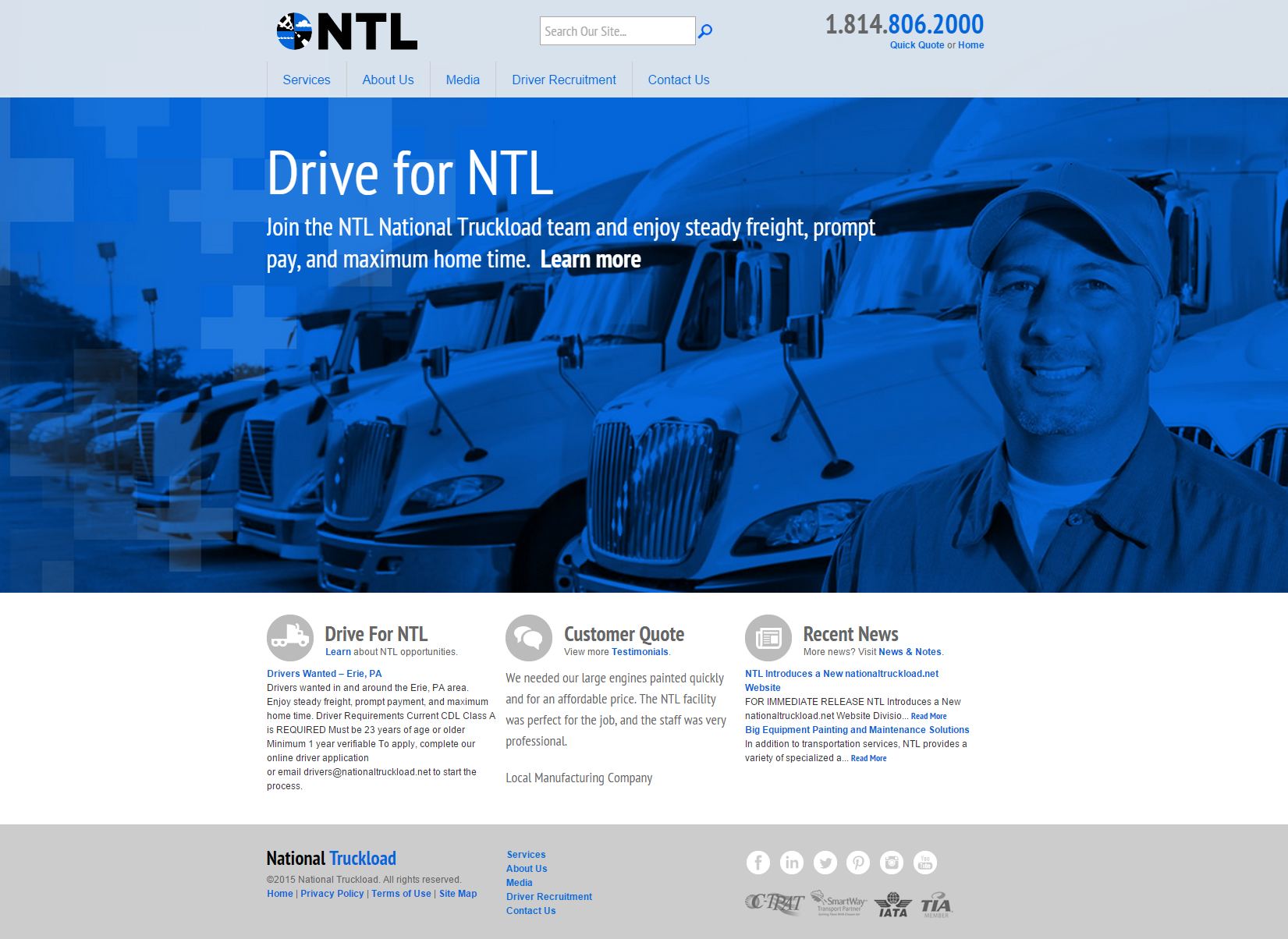 ERIE, PENNSYLVANIA, April 6, 2015 – NTL, the national truckload division of Logistics Plus Inc., announced today that is has introduced a new nationaltruckload.net website. The new website provides a spotlight on the company's truckload transportation, warehousing, industrial painting, crating and packaging, and fleet maintenance services.
Created with the user experience in mind, the responsive design of the website allows it to dynamically adapt to most web browsers, tablets, and mobile devices, and provides options to share information across all major social networking sites. Businesses interested in NTL transportation services and business solutions can easily request quick quotes online through the website. In addition to showcasing the company's unique set of capabilities, the website will be used for driver recruitment activities to help find and attract experienced truck drivers needed to operate the NTL fleet of dry van, flatbed, step deck, and tanker equipment.
"Having a standalone NTL website will help us articulate the capabilities our division offers to business seeking dedicated transportation services and unique business solutions, such as our Erie, PA warehouse and industrial painting operation," said Joe Santone, senior vice president for NTL and Logistics Plus. "It will also help us find and recruit high-quality drivers that are looking for opportunities with a reputable company where they can enjoy steady freight, prompt payment, and maximum home time."
About NTL
NTL (National Truck Load) is an asset-based and brokerage provider of truckload transportation, warehousing, industrial painting, crating and packaging, and equipment maintenance services. Founded in Erie, PA, with an additional facility in Lexington, NC, today it has a diverse mixture of people and equipment with a strong focus on providing dedicated solutions. As part of the Logistics Plus® network, NTL has access to additional capital, technology, and resources providing its customers with a broad array of complementary services, including global logistics, customs and compliance services, supply chain solutions, and more. Visit www.logisticsplus.com for more information.
Media Contact:
Scott G. Frederick
Vice President, Marketing
Logistics Plus Inc.
(814) 240-6881
scott.frederick@logisticsplus.com