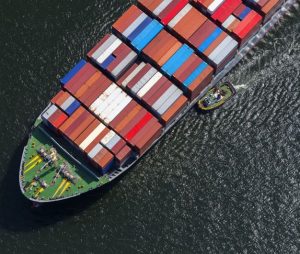 When working with a reliable global logistics partner, port-to-port international shipping – transporting cargo from one seaport to another – should be made easy for shippers. An ocean freight forwarder such as Logistics Plus will navigate through different sailing options, complex regulations, customs documentation, and more behind the scenes. As a Non-Vessel-Operating Common Carrier (NVOCC), Logistics Plus is an expert at getting your freight on the water and to its destination.
What do I look for when selecting a port-to-port global logistics partner?
Many freight forwarders claim to offer port-to-port international shipping. But buyer beware – not all global logistics companies are the same. Some may be new and inexperienced, some may not handle customs clearance, and some may not offer shippers' interest cargo insurance. It's crucial to make sure your cargo is in good hands while it's on the water. Here are a few questions to ask before selecting a port-to-port international freight forwarder:
Are they large enough to be experienced but small enough to pay attention to detail?
Do they offer a variety of sailings to and from all major ports?
Do they offer global trade compliance and customs clearance services?
Can they provide me with warehousing and distribution for my products if needed?
Do they have offices located around the world with local knowledge of the country to which I am shipping?
Do they offer competitive rates and have long-standing relationships with ocean carriers?
Are additional ground, rail, or air transportation services required once my shipment arrives at the destination port?
Will they explain to me how to choose the best Incoterms for my shipment?
Will I have shipment visibility and access to technology solutions?
Now that you have asked yourself these important questions, it's time to choose your global logistics partner and prepare your shipment for the big move. You should start by compiling a detailed packing list and itemizing every piece of the shipment. Simple things such as the size, weight, packaging, and dimensions will all play a factor in getting an accurate rate estimate. Your logistics provider will offer you appropriate shipping lines and sailings to and from the ports of your choosing. Once your shipment is en-route, you should be able to sit back and have the confidence that your logistics provider will frequently update you with the shipment status and final delivery.
Although port-to-port international shipping involves many different steps, our goal is to make it as easy as possible for our customers. If you're ready to learn more about Logistics Plus and our international shipping services, please email us at quotes@logisticsplus.com or click the button below to receive a risk-free quote on your next ocean shipment.