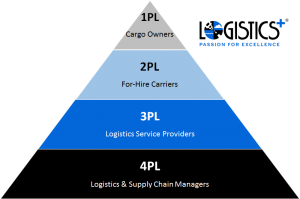 What's the difference between a 3PL and a 4PL? Well, before we go there, how about a 1PL and 2PL? A 1PL is simply the owner of the cargo who manages the entire distribution process internally. A 2PL is a for-hire air, ground, rail, or ocean carrier that directly provides transportation service to a shipper. As far as 3PLs and 4PLs are concerned, according to the glossary published by the Council of Supply Chain Management Professionals (CSCMP), the definitions for both are as follows:
Third-Party Logistics (3PL)
Outsourcing all or much of a company's logistics operations to a specialized company. The term "3PL" was first used in the early 1970s to identify intermodal marketing companies (IMCs) in transportation contracts. Up to that point, contracts for transportation had featured only two parties, the shipper and the carrier. When IMCs entered the picture—as intermediaries that accepted shipments from the shippers and tendered them to the rail carriers—they became the third party to the contract, the 3PL. The definition has broadened to the point where these days, every company that offers some kind of logistics service for hire calls itself a 3PL. Preferably, these services are integrated, or "bundled," together by the provider. Services they provide are transportation, warehousing, cross-docking, inventory management, packaging, and freight forwarding. In 2008 legislation passed declaring that the legal definition of a 3PL is "A person who solely receives, holds, or otherwise transports a consumer product in the ordinary course of business but who does not take title to the product."
Fourth-Party Logistics (4PL)
Differs from third-party logistics in the following ways; 1) 4PL organization is often a separate entity established as a joint venture or long-term contract between a primary client and one or more partners; 2) 4PL organization acts as a single interface between the client and multiple logistics service providers; 3) All aspects (ideally) of the client's supply chain are managed by the 4PL organization; and, 4) It is possible for a major third-party logistics provider to form a 4PL organization within its existing structure. However, 4PL was originally defined by Accenture as a trademark in 1996 and defined as "A supply chain integrator that assembles and manages the resources, capabilities, and technology of its own organization with those of complementary service providers to deliver a comprehensive supply chain solution.", but is no longer registered.
Logistics Plus 4PL & Supply Chain Management
Okay, now that we have the academic definitions out of the way, what do services really entail for a company working with Logistics Plus on a 4PL basis? Logistics Plus 4PL customers generally receive dedicated, on-site support and expertise in managing their supply chains. Our dedicated resources will work with customers to:
Manage both domestic and international shipping
Document and simplify the logistics process for shipping sites
Oversee customs regulations and compliance
Provide tools, like eWorldPlus™ and eTNTPlus™, for tracking and compliance
Identify potential savings opportunities
Implement cost savings projects
Liaison between allocated carriers and sites
Resolve disputes raised by sites or carriers
Audit freight invoices to ensure accurate billing
Facilitate idea generation with customers' logistics team
Test pilot special projects to determine effectiveness
And anything else needed to add value to the partnership
If your company is struggling with logistics management and getting control of its supply chain, Contact Us and let us provide you with a risk-free logistics analysis. Call us a 3PL, 4PL, or whatever you'd like — but we'll help you identify areas of opportunity and how we can help you address them.
Follow @LogisticsPlus on Twitter or Like us on Facebook: