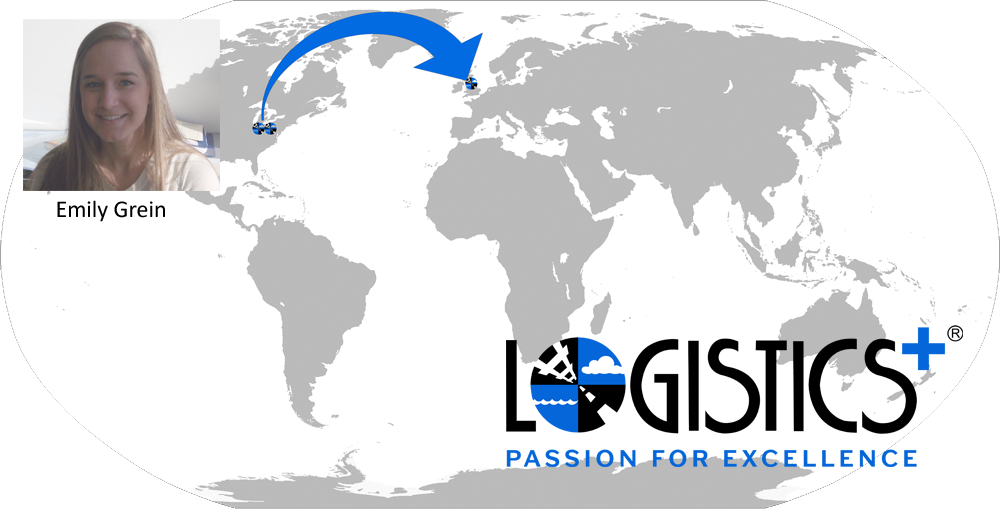 People often ask us what the "Plus" in Logistics Plus means. Although it can be difficult to put into words, we often say the "plus" represents all of the extra little things we do to help our customers be successful – whether that means someone working late to track a shipment, assigning a dedicated resource to work on a project, or providing some training on trade compliance regulations.
Yes, these are all things we do, but nothing is more representative of the "plus" than an actual example. Many of these "true examples" go unnoticed and undocumented since it is just the way we go about our business here at Logistics Plus. However, from time to time, we get a customer who takes the time to acknowledge something special one of our employees has done, and it really helps shine a light on some pretty cool stuff our people will do to get the job done.
Take Emily Grein, a logistics specialist and member of our International services staff. On Thursday of last week, Emily received a call from one of our customer's customers. Apparently, a production line in Scotland was going to shut down if a special part in Erie, Pennsylvania was not delivered immediately. Emily, with her passport in hand, volunteered to pick up the part, drive it to the Cleveland airport in a total snow blizzard, and then fly to Glasgow, Scotland where she personally delivered the part the next day.
In the end, the customer avoided a costly production line shut-down for which they were very happy. In fact, the external sales manager for the company wrote the following testimonial back to us to say … "We (all) endured a really difficult few days last week, in relation to supply of critical goods to a key customer.  I'd like to say thanks to Emily, who had a real difficult journey in getting the goods to us.  After a serious amount of hours traveling, with very little sleep, I couldn't believe how friendly and pleasant she managed to be, at the point of arrival. …. I'm not convinced I could have achieved this.  It goes without saying, and I'm pretty certain you'll agree, you're really fortunate to have a work colleague and an asset, that is Emily Grein."
That, my friends, is how we put the "plus" in Logistics Plus. Contact us if you need our hand-carry service for a critical shipment.
Follow @LogisticsPlus on Twitter or Like us on Facebook: