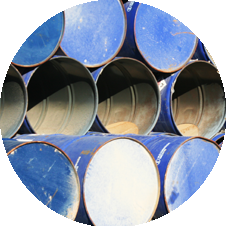 Logistics solutions for the chemicals and refining industry.
Safety and constant changes in global supply and demand dramatically affect chemicals and refining supply chains. Products must also arrive safely and on time. This is why you need an experienced and reliable transportation and logistics partner.
We believe that there are still opportunities to increase control and reduce costs in industries driven by the strictest safety and environmental regulations. We adhere to all safety guidelines while best managing our customers' individual goals to safely and efficiently transport chemicals. We offer solutions that improve each phase of the chemical logistics supply chain, including warehousing and distribution.
Our goal is to provide supply chain management solutions that optimize performance and systems so that predictability improves and you're able to mitigate potential problems before they arise. By increasing product velocity, we provide market access more consistently. And we minimize the cost of transport by providing direct top shipping options.
We can help manage your logistics so that you focus on your business and respond quickly to changing market conditions. With peace-of-mind assurance, you can spend more time on the things that ultimately make you more competitive, like service, productivity, and innovation.
To request more information, please complete our Industry Solutions Form.