Logistics solutions for the energy, solar, and fuel industries.

Logistics Plus energy solution provides third-party management of our clients' global project cargo. We take pride in our seamless and cost-effective supplier-to-job site routings in the growing renewable energy industry. Our energy industry solutions provide complete project oversight, from back-office functions (communications, delivery schedules, troubleshooting, accounting, etc.) to multimodal shipping options to get your energy project cargo to the job site at exactly the right time.
Areas of Expertise:
Solar Energy
Wind Energy
Bio-fuels/Renewable Energies
Coal and Natural Gas Power Generation
Oil and Gas Refining
We can help manage your logistics so that you focus on your business and respond quickly to changing market conditions. With peace-of-mind assurance, you can spend more time on the things that ultimately make you more competitive, like service, productivity, and innovation. In the Supply Chain World magazine below, you can read more about Logistics Plus project cargo services for the energy industry and one of our solar company clients.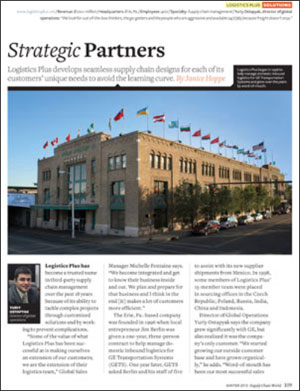 To request more information, please complete our Industry Solutions Form.