Logistics solutions for the government and government contractors.
Logistics Plus is well-suited for government contract work involving transportation and logistics. We handle all facets of logistics, including ground transportation, airfreight forwarding, ocean forwarding, rail and intermodal, warehousing, and customs compliance – we even provide linguistics solutions! One strong area of expertise for Logistics Plus is managing unique or complex cargo logistics projects for both government and private contractors. To illustrate, our logistics team has:
Transported locomotives to Indonesia;
Imported solar modules into the U.S.;
Shipped wind turbines to Finland;
Hauled tugboats to Kuwait; and
Moved liquid natural gas tanks to Brazil; and much more!
Learn more about our project cargo capabilities
Given our domestic and foreign logistical expertise – particularly in diverse countries such as China, India, Indonesia, Libya, Turkey, and many others – we are a valuable subcontractor for any prime contractor responsible for a large government logistics contract. Beyond logistics, our people have a passion for excellence, and we put the "plus" in logistics by doing all of the extra little things – from start to finish – needed to ensure your success.
If our profile sounds like a good fit for any of your current or upcoming government projects, please contact our Compliance department manager, Adam Mook, at 814.464.1722 or adam.mook@logisticsplus.com to get the process started. We'd love to work with you.
Click the image below to view a PDF version of our Government Capabilities Statement.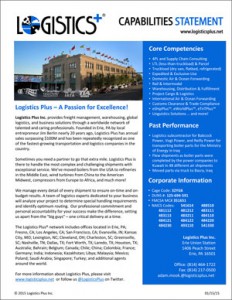 To request more information, please complete our Industry Solutions Form.