World-Class Technology Solutions.
Logistics Plus world-class technology is built on industry-standard platforms with customized portals and unique functionality designed to provide our clients with valuable tools, information, and dashboards. Our team of development, integration, and business intelligence (BI) experts integrate best-in-class and custom-built platforms to provide an overall ecosystem that can be seamlessly integrated into global supply chains. MyLogisticsPlus™ is our custom-built customer-facing portal, personalized to meet our clients' specific visualization, reporting, and usability requirements, and provide extended functionality (via Desktop PC and Mobile App).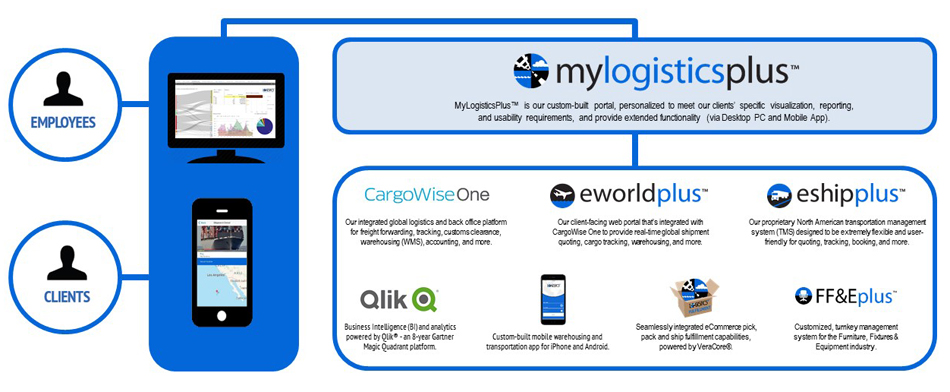 Here is a little more detail on some of our core systems:


Customized reporting
Consolidated tracking
Business intelligence (BI)
Dashboards and data visualizations, powered by Qlik®
Data integrations
Training and administrative tools
Mobile App for iPhone and Android
Requires special access

North American transportation management system (TMS)
Get LTL shipment quotes for multiple top tier carriers
Create bills of lading and schedule shipments
Track your LTL and truckload shipments, including access to MacroPoint® load-tracking services.
View shipment manifests and run reports on your shipping history
MyFreightTrends™ business intelligence dashboards
Pay invoices online … and more!
International cargo managements system powered by CargoWise One®
Request spot quotes on your international shipments
Track shipment and container moves
File customs documentation
Check product inventory and manage warehousing (WMS)
View shipment dashboards and run reports on your shipping history
Pay invoices online … and more!


Customizable, turnkey platform for the Furniture, Fixtures & Equipment (FF&E) industry
Project management support for locations, projects, and more
Warehousing and fulfillment capabilities
SKU visibility and inventory management
Procurement and sourcing
Location layouts and designer concept boards
Installation scheduling and management
Project dashboards, business intelligence … and more!
Ready to get started? Please Contact Us for more information, or Become a Customer and request access to any of our e-services.