Freight Audit Solutions

Successful freight audit and payment relies upon carefully designed processes, proven technology, flexible data management, and appropriate financial controls. Logistics Plus® Freight Audit Solutions™ (LPFAS) incorporate a comprehensive 3-point check to ensure your small pack, parcel, LTL, truckload and international freight invoices are accurate, disputes are promptly filed, and that appropriate refunds are received. Our technology is powered by a 20-year industry platform and gold-standard for invoice information workflows and customized business logic.
LTL and Truckload
LPFAS can integrate with all of your carriers through any channel of invoice transmission, including EDI, e-billing, FTP, Excel files, file transfers, or physical mail. We load your contracts, develop a manifest file, and then apply our 3-point audit and matching process before you approve payments. We also work with your accounting staff to ensure proper GA codes are assigned to expenses.
Small Pack and Parcel
LPFAS small pack and parcel auditing services allow you to take control of your shipping, with insightful business intelligence tools that support automated opportunity identification and refund requests. Identification of late, lost, and not-shipped shipments provide valuable savings opportunities.
International
LPFAS solutions can be setup to pay any and all modes of transportation, including international air and ocean shipments. Our standard 3-point audit would just require carrier contract/rate, manifest file, and invoice from the carrier/forwarder.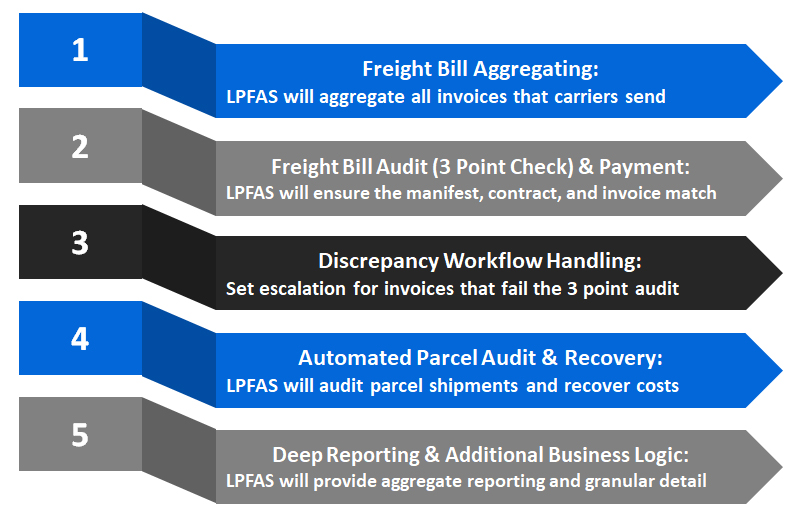 Interested in our freight bill audit and payment solutions? Contact us to learn more.