Logistics Plus® FF&E Logistics: From P.O. to Install, We Do It All™

Logistics Plus serves clients seeking a one-stop global solution for their FF&E or OS&E projects in the hospitality, retail, co-working, co-living, healthcare, education, trade show, and real estate development industries. We provide outstanding value-added FF&E logistics and supply chain services through cost-effective operational planning, efficient execution, unparalleled visibility, and exceptional project management. Our teams listen, then design customized and comprehensive supply chain solutions for our clients. Our customizable FF&Eplus™ technology platform provides a turnkey warehousing, inventory, and installation solution for project managers, buyers, designers, and installers.
We've delivered and installed millions of pieces of furniture, fixtures, equipment, and accessories! Contact Us to Learn More

Logistics Plus is a proud partner of the MACH-3000 Alliance – The European Furniture Transport Network.

Logistics Plus Solutions
Procurement and Order Management Support
Global Transportation & Freight Management
Warehousing, Distribution, and Inventory Management
Project Planning and Solutions Management
Delivery, Assembly, and Installation
Robust Supply Chain Software & Client Portal Access
North American Coverage by Logistics Plus
European Coverage by Jan Krediet, a Logistics Plus Company


Components of a Logistics Plus FF&E Solution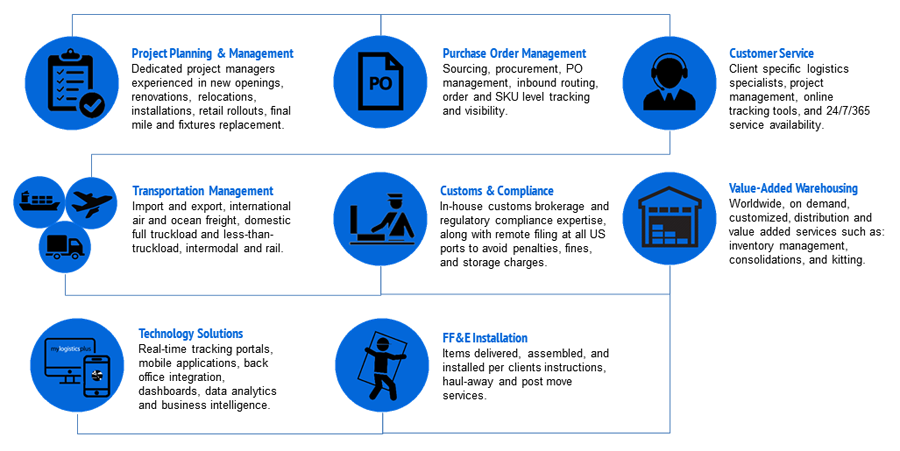 Top Reasons Why You Need Logistics Plus
Experience: Over 25 years of growth and delivery for our customers, both large and small, in every facet of logistics.
Expertise: Dedicated project planners, managers, and logistics specialists who understand how things work "on the ground."
Reach: Access to our established worldwide network of freight carriers, installation service providers, and flexible warehouse locations.
Passion For Excellence: We care and find a way to "yes" in everything we do.


Ready to learn more? Contact us today!