Get Control of Your Information
LP Fulfillment software provides desktop convenience and an all-in-one solution for instant, real-time order processing, inventory reporting, and shipment tracking. Dare we say that LP Fulfillment has the most advanced fulfillment technology available? Absolutely! Our tailor-made software is flexible enough to meet your specific business needs while robust enough to provide information that will help you grow your business.
Take a quick look at all the LP Fulfillmentsoftware and technology benefits:
Quick and Easy Setup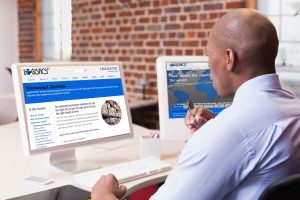 A Logistics Plus dedicated account manager and IT implementation manager will guide you through the setup process. You can be up and running within three days with just an internet connection. All software resides on our dedicated server, with no need for software installation on your end. Your software is automatically upgraded whenever new upgrades become available.
Seamless Integration
Our software provides three options for order capture. These work together to enable LP Fulfillment Solutions to provide your customers with prompt and accurate delivery:
1) File Upload – upload your orders using a CSV, Tab Delimited, or Excel File
2) Manual Entry – access the online shopping cart and manually enter or cut and paste your order information
3) XML or Web Services- integrates directly with your shopping cart, allowing for seamless order flow
Innovative and Secure
Our software can be customized to simulate the look and feel of your website. Rest assured that orders are handled quickly and correctly. If your requirements include lot tracking, then LP Fulfillment has got you covered. Your customers can receive emails alerting them of their order tracking information. You have the option to control which areas of our software your employees have access to.
LP Fulfillment software resides on a dedicated server with a backup power source. Each account is password-protected, and you can limit what users can access. For example, a call center can have their access limited to order entry.
Transparent
Our technology gives a business owner complete control, with real-time reporting capabilities that enable you to view product images, receive order confirmation, track and report on account activity, track inventory from what's expected, received, and shipped. You can even check the shipping status of packages, product history, and find out the exact content of all boxes shipped, plus a whole lot more.
HOW OUR SOFTWARE TECHNOLOGY WORKS FOR YOUR BUSINESS:
As we receive your inventory, it is counted, labeled, and assigned space in our warehouse. Since everything is barcoded, we always know exactly where your inventory is at all times.
Once our software receives your order, the data is verified and processed. A picklist then prints. Our Material Handlers then pick and pack the order. As the order is shipped, your customer receives a customized email with your logo and information, along with tracking information.
Your inventory is updated at the time the order is placed. You can see where in the process the order is at any time. In addition, to help you run your company more effectively, you have access to over 70 standard reports.
You can rest assured that every order will be shipped with 100% accuracy.
Contact us with a quick request or call 866-564-7587.