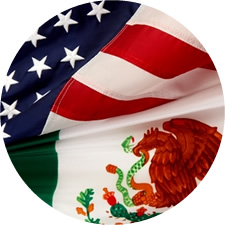 Many recent articles and white papers have been discussing the emerging trend of nearshoring in Mexico. Thanks to rising costs in China, delays and disruptions to transpacific shipping routes, and logjams at United States western seaports, many manufacturers are looking closer to home for their sourcing needs.  For many of these companies, Mexico – the third largest U.S. trade partner – has become a cost-effective alternative.
According to a recent manufacturing study published by a reputable global research firm, some 46 percent of respondents have already engaged in a plan to nearshore within the next five years. Of those companies, 63 percent say Mexico is the leading candidate, citing lower transportation costs and improved speed-to-market.  As a result of increasing demand, truck and rail traffic between the U.S. and Mexico set record highs for volume and freight value, in 2014 according to the U.S. Bureau of Transportation Statistics.
Being closer to the U.S. market by nearshoring in Mexico provides companies with a number of benefits, including:
Proximity. A shipper can move freight from Mexico to the U.S. by ocean in 48 hours, and by truck within a few days or less. By contrast, shipping a container from Asia to the U.S. could take up to six weeks to deliver. Another consideration is that operating in similar time zones creates opportunities to strengthen collaboration between U.S. companies and their Mexico counterparts.
Trucks and Rails.  More than 1.37 million trucks crossed the U.S./Mexico border in the first quarter of 2015, up almost 3 percent from the prior year. Also, shippers now have more reliable and seamless intermodal service options between the U.S. and Mexico, which can offer a 15- to 20-percent cost advantage over trucks alone.
Labor. Unlike a decade ago when Mexican labor costs were reportedly 60 percent higher than those in China, today they're on par or lower.  Mexican companies have also transitioned from simple assemblers of products to exceedingly sophisticated manufacturers.
With an abundant labor pool, lower wages, low energy costs, and simplified truck and rail transport, including intermodal operations, Mexico has emerged as a nearshore alternative to overseas manufacturing. Companies unfamiliar how best to optimize their U.S./Mexico supply chains through the use of effective cross-border transportation and warehousing can contact the experts at Logistics Plus for help. We have been managing logistics between the U.S. and Mexico for nearly 20 years, and we recently celebrated our 10th anniversary for operations in Mexico.
The benefits of working with the Logistics Plus cross-border logistics team include:
Bilingual staff members on both sides of the border
Proven experience and success on both sides of the border
Competitive rates and contracts for cross-border transportation
Full shipment visibility across the entire supply chain
Customs clearance, global trade compliance, and NAFTA expertise
Warehousing availability with Foreign Trade Zone (FTZ) activation
Please visit www.logisticsplus.com/Mexico to learn more or contact us using the button shown below.