A recent article published by Visual Capitalist (written by Adam Symington and Carmen Ang) discusses the world's busiest aviation hubs. According to the report, there are up to 8,755 commercial flights in the air at any given time of day. These flights transport thousands of people and millions of dollars worth of goods around the world.
You can read the full article on Visual Capitalist here: Mapping Airways: World's Flight Paths and Airports
The article focuses on three points regarding aviation/airports. They are presented below the map with a comment from Logistics Plus.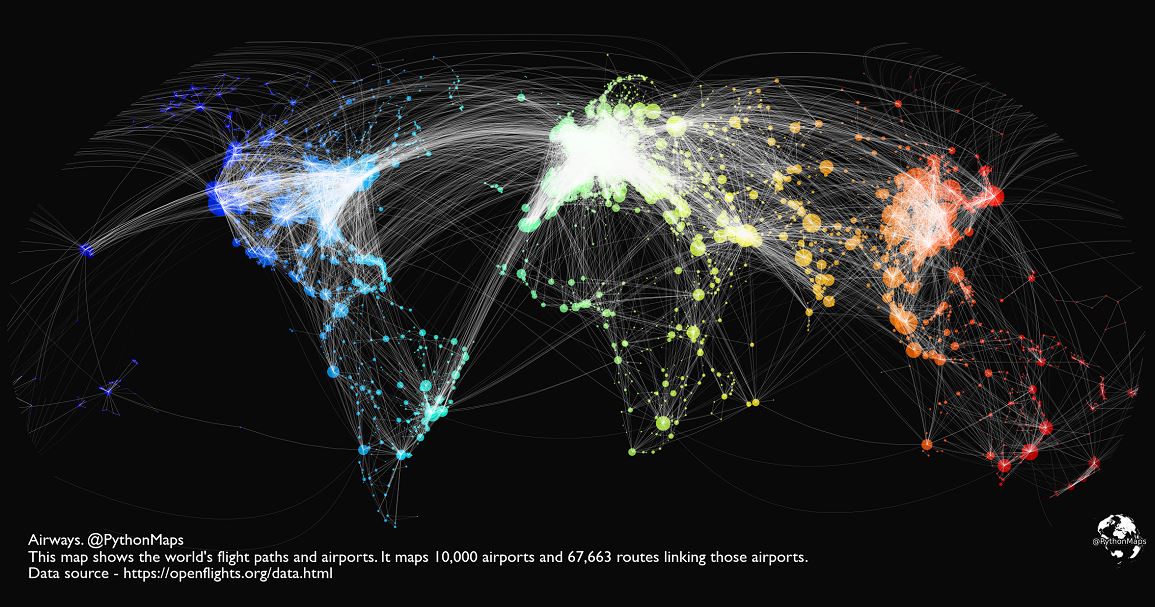 Busiest Airports by Passengers
Eight of the top ten busiest airports for traffic in 2021 were in America. Topping the list was Hartsfield-Jackson Atlanta International Airport, with more than 75 million passengers in 2021. According to the airport's website, Atlanta is within a two-hour flight from 80% of the U.S. population. Dallas/Fort Worth (DFW) was second on the list, with 62.5 million passengers. DFW is the central hub for American Airlines, the world's largest airline by fleet size.
Our thoughts: It's no shocker to see that U.S. airports make up eight of the top ten busiest airports for passengers. According to CNN, Americans are more likely to travel within the country than abroad. Another factor that most likely affects this list is that the U.S. rolled back on COVID travel restrictions faster than most countries.
Busiest Airports by Cargo
The busiest airports by cargo list is much different than the passenger traffic list. Hong Kong (HKG) takes the top spot on this list after processing more than 5 million metric tons of freight throughout 2021. Hong Kong has been known as the busiest air cargo hub for over a decade, and it maintains this spot. The second busiest cargo airport in the world is Memphis International Airport (MEM), with nearly 4.5 million metric tons of freight in 2021.
Our thoughts: Hong Kong topping the list for ten consecutive years is no surprise. Hong Kong airport has a geographical advantage, being located in the heart of the Asia-Pacific. You might wonder how Memphis International Airport is the top air cargo hub in the United States. Well, Memphis is the home of FedEx, one of the largest air freight carriers in the world. Based on location, it would be easy to assume that Los Angeles or New York would top the list in America.
Covid-19 Impact on Aviation
At the peak of COVID, international travel was down 98% from normal levels. Although the aviation industry is starting to recover, things aren't fully back to normal yet. ACI World's General Director, Luis Felipe de Oliveira, stated that last year's recovery was just the beginning and that we should expect a return to normalcy.
Our thoughts: It will be interesting to check out the numbers over the next few years to see how long it takes the aviation industry to reach its pre-pandemic numbers. Many airlines were forced to lay off staff, cancel trips, and raise prices. As these factors slowly move back to normal levels, the aviation industry will be just fine moving forward.