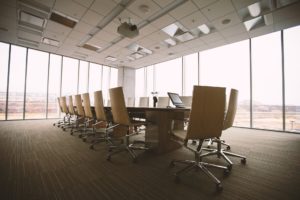 Most people show up to an office, restaurant, resort, hospital, retail store, hotel, or even a casino with little understanding of how the space was planned, organized, and created.  The reality is that many hours went into the design, procurement, purchasing, transportation, storage, and installation of all the products and items contained in each of these spaces.  For those responsible for outfitting these spaces, the tasks involved can be overwhelming and expensive if they aren't handled correctly. That's where an experienced FF&E logistics and supply chain partner can help.
FF&E stands for Furniture, Fixtures, and Equipment, and it comprises everything that is not connected structurally to a building. FF&E refers to items such as chairs, tables, desks, cabinets, beds, decorative lighting, artwork, shelving, technology equipment, data servers, and more that designers choose to place throughout a building to achieve various purposes such as design or functionality.
The Difference Between FF&E and OS&E

Another phrase synonymously used when discussing FF&E logistics is OS&E. Operating Supplies and Equipment is primarily used within the hospitality industry. FF&E usually refers to items that must be unpacked, assembled, and placed, such as technology or lab equipment, stools, couches, conference tables, beds, dressers, and lamps. In contrast, OS&E are those items that are essential to make the space functional such as towels, glassware, linens, trash bins and liners, coffee makers, and pillows.
There's a common vision that's often used to describe FF&E and OS&E.  Imagine that you were able to pick a building up, flip it upside down, and shake it.  Everything falling out would be identified as FF&E or OS&E.
Why Choose Logistics Plus for FF&E Logistics?

The Logistics Plus FF&E and Project Installations teams have years of experience minimizing customer complexities and creating successful projects. Logistics Plus not only understands FF&E and OS&E, but we have also perfected the process. From purchase order (PO) to install, we do it all!  Our teams listen, then design customizable and comprehensive supply chain solutions for our clients.  With over 25 years of growth and experience, we have proven that we are dedicated to our customers and know how to get things done right.  We have processed, transported, stored, and installed millions of pieces of furniture, fixtures, technology equipment, accessories, and operating supplies globally. Additionally, our FF&Eplus™ management system makes it easy for logistics and supply chain managers to gain control over their projects.
The entire process of managing FF&E projects can be a daunting task, but that is where the Logistics Plus FF&E experts shine.  Regardless of what stage our clients are in with their projects, we have fine-tuned the how, when, what, and where to accomplish every step necessary to deliver results.
If you are curious about FF&E and OS&E or would like to learn more about how we can help with a current or upcoming project, click the button below. We have key services to help every business streamline and scale in nearly every country around the world.