What is Project Cargo?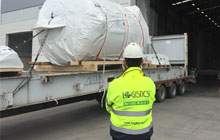 Project cargo, also known as project forwarding or project logistics, is the transportation of large, complex, or high-value pieces of equipment, including break bulk shipments, that can move by land, sea, or air. This process involves single or multiple shipments with the help of cranes, trucks, rail, planes, and ships.  Furthermore, project cargo tends to have a specific time-frame or specified delivery date that makes these shipments some of the most complex and detailed projects in the entire logistics industry.
Getting Started:
Pre-planning is crucial
Every successful cargo project begins with an organized and detailed plan. Making adequate time to organize and plan every detail of this process can save shippers a significant amount of time and money, while also reducing the risk of unexpected events.
Work on a contingency plan
There is always a chance that unpredictable or unanticipated events can impact the pre-planned strategy. It's important to consider every alternative and have a backup plan if something goes wrong. Making sure you have an appropriate contingency plan in place can help ensure success with all deliveries.
Execution
Once all plans are in place, it's time to begin transporting the product. Every country has different protocols when it comes to customs compliance, paper work, duties, exemptions, authorizations, and other considerations that must be followed. Typically, an experienced project cargo manager can assist firms with all the regulatory considerations and budgeting process, as well as providing insights into the shipment design, packaging, routing options, and appropriate choices for final delivery. The execution of project cargo transportation should be just as comprehensive as the pre-planning stage. Based on transit times and other factors, a project cargo manager will meticulously execute the detailed plans while maintaining liability, constant communication, and overall transparency.
Work on constant improvement
Project cargo transportation always has room for improvement. Tracking and analyzing the results of finished projects will lead to further improvements on future shipments.
Why choose Logistics Plus for project cargo and break bulk shipments?
1) We have over 20 years of project cargo expertise
2) Award-winning service and market competitive rates
3) Our global network of people, locations, and resources
4) Cargo visibility and responsiveness to potential problems
5) World-class technology and transportation management tools
If you're interested in our award-winning service, click below to receive a free project cargo quote today or email us at projectcargo@logisticsplus.com.