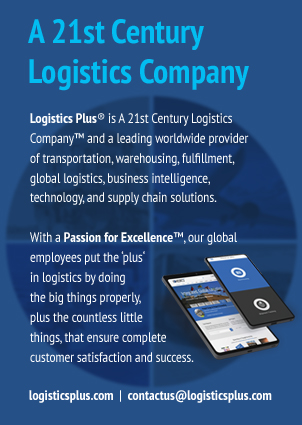 Yesterday we announced that Logistics Plus is being profiled in the Inbound Logistics 2021 Logistics Planner.  The profile and accompanying advertisement introduced our newest descriptor … A 21st Century Logistics Company ™.  So what does it mean to be a 21st-century logistics company? First and foremost, it means that Logistics Plus is a reliable partner known for developing creative solutions to critical challenges.  It also means that Logistics Plus, over the past 25 years, has developed key traits to address contemporary supply chain opportunities and problems.  As it pertains to you and your business, that means:
 We manage your logistics so you can focus on your core business.
 We have been in business for nearly 25 years, and our teams have a wide variety of skills across many disciplines – we can do pretty much anything needed across your entire supply chain.
 Our teams can integrate with your company in various ways, from full-time onsite resources to offsite logistics management of multiple locations.
 We manage inbound and outbound domestic freight and international cargo.
 Using technology, business intelligence, and global supply chain control towers, we can connect all the links in your supply chain, from vendors to end customers.
 Our services are customized to your needs, so you always get exactly what you want and need.
 We have offices in close to 30 countries throughout the world, and we have valued partners in dozens of others.
 Our professionals keep up with the constantly changing logistical landscape – after all, this is still very much a people business.
 We are big enough to be effective but small enough that your business will be important to us – we call this the 'Goldilocks Zone.'
 With a Passion For Excellence™, we are the company that is focused on solving problems and taking away your headaches!
If you haven't already, we invite you to watch our introductory video below.  As we explain in the video: Logistics is in our DNA … this is what we do.  Let us do it for you too!
What's your logistics or supply chain challenge? Contact us for a 21st-century solution today.