At Logistics Plus (LP), we are serious about helping our customers, delivering phenomenal services, growing our business, and building our brand recognition as the company with a passion for excellence in all aspects of transportation and logistics. Like most world-class companies, we have brand guidelines in place to ensure proper logo usage, brand consistency, and to set a tone for our go-to-market activities. That said, we're also a fun company; and we don't want to be caught in the trap of taking ourselves too seriously all of the time. Case in point. Over the past couple of years, we have been known to showcase fun and whimsical variations of the Logistics Plus logo to celebrate holidays, anniversaries, and special events. These logos are occasionally used at special events, in advertisements, or posted to our various social media sites.
As part of our 20th anniversary celebration, we'd like to invite you to submit your favorite "fun LP logo" from the selections below. Click the button at the bottom of this page to submit your entry before June 1, 2016 and you'll be automatically entered into a random drawing to win your choice of "LP swag" from our online company store (one item per winner)! We'll randomly select six lucky winners (three employees and three non-employees) on June 2.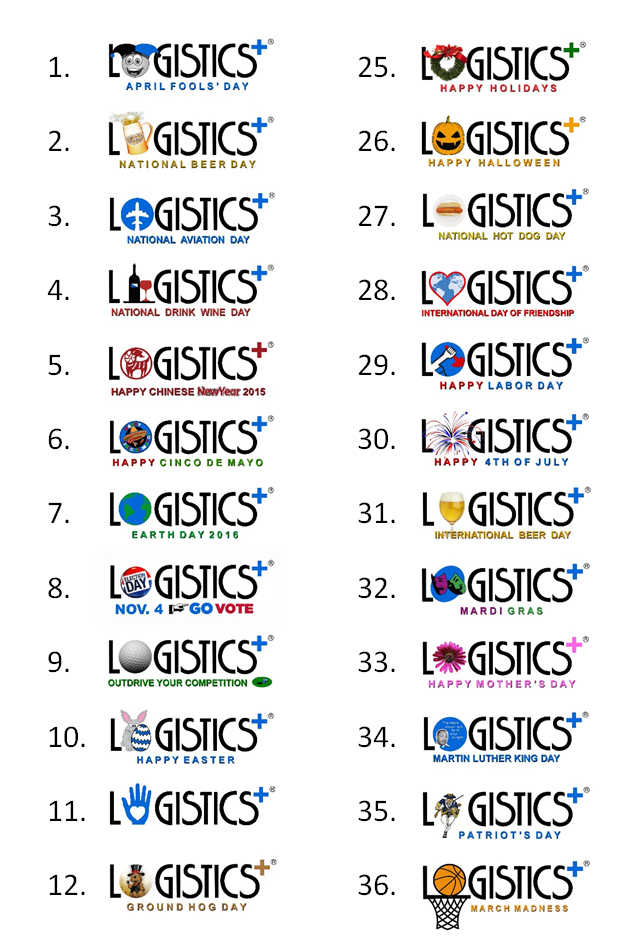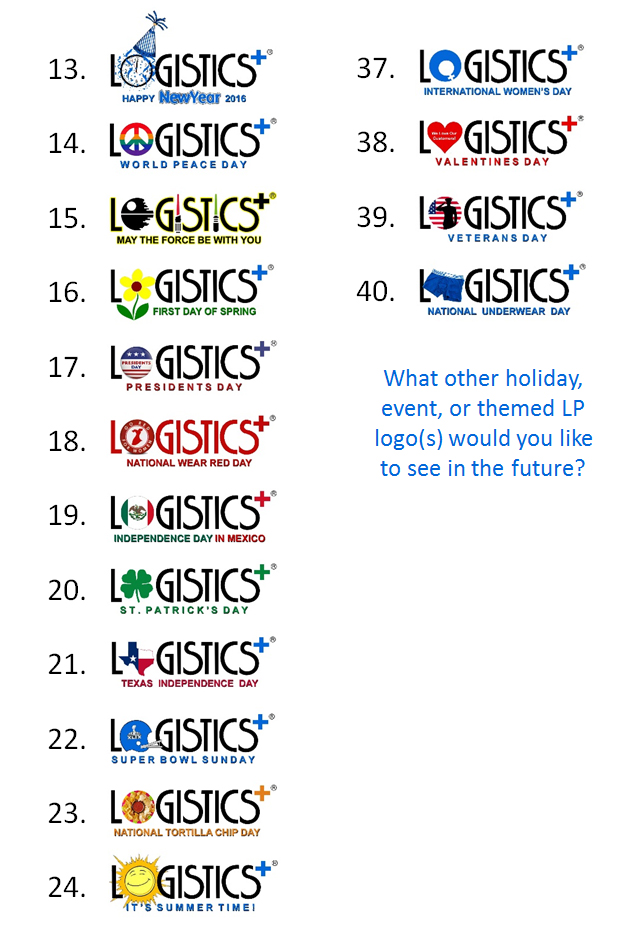 OFFICIAL RULES:
No purchase necessary. Logistics Plus (i.e., Sponsor) is not responsible for late, lost or misdirected emails. Winner will be drawn at random from eligible entries. Five (5) winners will receive a prize. Odds of winning depend on the number of eligible entries received. Drawing open to all entrants who are 18 years or older. The winner releases the Sponsor and each of its affiliates, officers, agents and employees from any responsibility or liability in connection with any loss, accident or death incurred in connection with the giveaway. Sponsor is not responsible for any incorrect or inaccurate entry of information. All federal, state, local, municipal and provincial laws and regulations apply. Sponsor shall be deemed sole interpreter of the rules and conditions. By participating, entrants acknowledge and agree to be bound by these rules and the decisions of the Sponsor are final. Void where prohibited by law. Notification will be made to verify shipping address. All entries become the property of the sponsor and will not be returned. Any taxes are the sole responsibility of the winner(s).