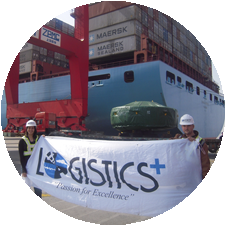 Logistics Plus is your global headquarters for freight forwarding and project cargo expertise! Other companies may claim to have expertise handling project cargo, but we'll put our 20 years of project cargo experience up against anyone. Project cargo, also called project forwarding or project logistics is a specialized field of transportation and logistics that requires specific expertise, knowledge, and resources. Project cargo can often be large, unique, oversize, heavy-lift, or breakbulk shipments. Project cargo can also be managing a large volume of freight shipments within a specified time frame or by specific delivery date.
Logistics Plus has extensive project cargo expertise handling, lifting, and transporting the most difficult of cargo across many industries. We've managed projects involving locomotives, windmills, satellites, solar panels, gas pipes, boilers, generators, LNG tanks, pumps, helicopters, machinery, tractors, ship blocks, aviation components, and more. And we've done so in countries all around the world, including the United States, Canada, Mexico, Brazil, Chile, Belgium, Germany, Finland, China, India, Indonesia, Turkey, Saudi Arabia, and Libya, to name just a few. The following photo gallery provides some great examples of the many cargo projects our team has handled over the past couple of years.
When you work with Logistics Plus, you can enjoy the peace-of-mind knowing that you're working with an experienced project cargo logistics company that has a reputation for managing projects from start until finish – and everything in between. Our project cargo services include all of the following options:
Planning and scheduling
Crating and packaging
Breakbulk preparation
Specialized equipment for loading and unloading
On-site management and inspection
Proactive tracking and monitoring
Air, ocean, ground, and rail transport services
Vendor management and logistics consultation
Customs brokerage and global trade compliance
The secrets to our project cargo success are as follows:
Talented, experienced, and caring logistics professionals
Our global network of people, locations, and resources
Cargo visibility and responsiveness to potential problems
Award-winning service and market-competitive rates
World-class technology and transportation management tools
If you're interested in learning more, click the image below to visit us online to see how we manage project cargo or to request a no-obligation project cargo quotation. You can also contact our Project Cargo Division directly by calling 1.866.564.7587 option 5 or by sending an email to projectcargo@logisticsplus.com.