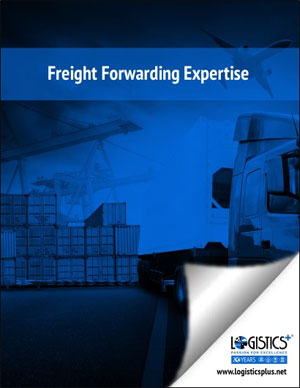 A freight forwarder, forwarder, or forwarding agent is a person or company that organizes shipments for individuals or corporations to get goods from the manufacturer or producer to a market, customer or final point of distribution. When it comes to international freight forwarding, selecting the right global freight forwarder can help your business succeed by offering relief to many of your supply chain challenges – and possibly even providing you with a competitive advantage. Your freight forwarder should be an experienced and trusted partner for your logistics needs. Increasing levels of global sourcing and omnichannel retailing have created significant opportunities for importers and exporters around the world to optimize their supply chains. Whether you're with a large, multinational corporation, or a small company shipping globally for the first time, selecting the right global freight forwarding partner can help you save time and money, increase shipment speed and visibility, and reduce your risk.
Here are six (6) questions to ask when choosing a global freight forwarder:
Can they provide capacity options across multiple shipping modes? They should be able to ship goods by ocean, air, rail or ground, choosing the best option for your need. They should also be able to consult you on consolidation and routing optimization options.
Do they offer customs brokerage and trade compliance advice? They should be able to leverage customs information and programs to your advantage. They must be knowledgeable in free trade agreements and know how to navigate each country's compliance requirements, customs rules, governmental regulations, and duty rates.
Do they have regional offices in key geographic regions? Your global freight forwarder should have deep knowledge of the local countries in which you are importing or exporting. They should be familiar with local languages, infrastructure, economy, currencies, tax laws, and tariffs. They should also be members of reputable freight forwarding networks, such as WCA, IFLN, or TWIG. If a freight forwarder is a member of a reputable network, the chances of them handling your shipment with care and diligence anywhere in the world is higher than if they were not a member. It also shows they have financial strength because there are only a handful of legitimate, quality freight forwarding networks that really vets their members.
Is their TMS or cargo management systems truly global? There should be one system architecture that works across all regions of the world and covers all types of transportation. Shipment tracking and visibility should be accessible online or, if needed, it should be something you can integrate it into your back office systems.
Can they help assess and reduce cargo risk? They must adequately assess and mitigate cargo risk to help your company protect its bottom line. They should have adequate cargo insurance and they should be able to issue added insurance policies for your shipments in case of theft, damage, or loss.
Do they have the experience you need? There are many modes of transport, commodities, regulations, and industries. Your freight forwarder should be able to demonstrate experience handling important freight forwarding shipments for other reputable companies, or those in similar industries.
If you're looking for a new global freight forwarding partner, you might consider asking these six questions as part of your screening process. We'd be honored if you'd consider Logistics Plus as a potential candidate to be your global partner. Please ask us these same six questions and we're confident you'll be satisfied with our answers. Click the first button below to contact us today for more information, or click the second button below to request an international freight quote. You can also click the image shown above to view or download a PDF copy of our Freight Forwarding Expertise brochure.