FOR IMMEDIATE RELEASE
Logistics Plus Named to Supply & Demand Chain Executive's SDCE 100 Top Supply Chain Projects
Massive cargo project involving the import and transport of large gas pipes earns award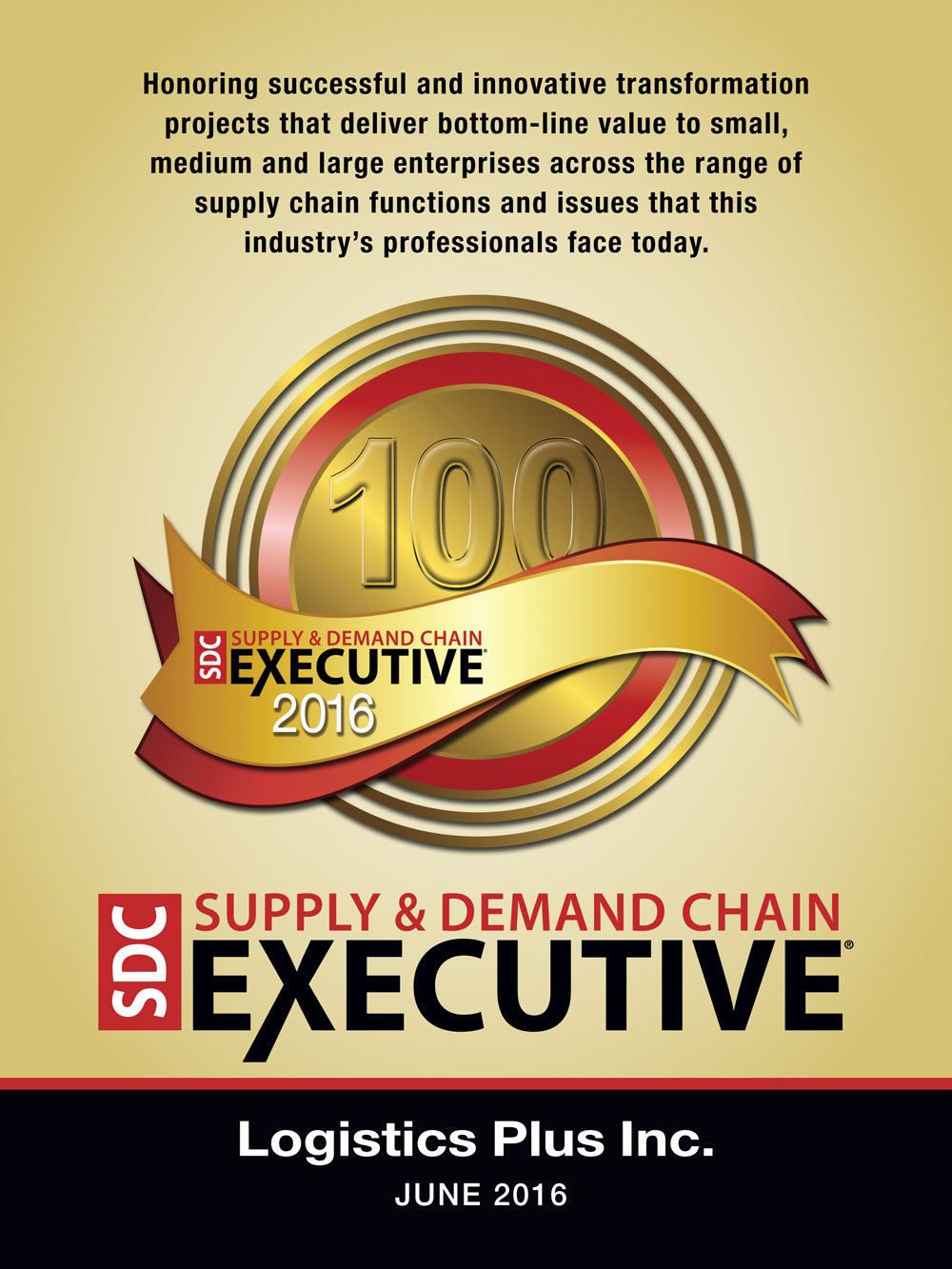 ERIE, Pa. (June 28, 2016) – Logistics Plus Inc., a leading worldwide provider of transportation, logistics and supply chain solutions, is proud to announce it has been selected by Supply & Demand Chain Executive, the executive's user manual for successful supply and demand chain transformation, as a recipient of an "SDCE 100" Award for 2016.
The SDCE 100 is an annual list of 100 great supply chain projects. These projects can serve as a guide for supply chain executives who are looking for new opportunities to drive improvement in their own operations. These projects show how supply chain solution and service providers help their customers and clients achieve supply chain excellence and prepare their supply chains for success. The supply chain project submitted by Logistics Plus that earned this recognition involved the import coordination and final delivery, last summer, of nearly 2,500 sections of 40' and 60' pipes from Germany to various locations in the Midwest region of the United States.
"Our goal with 2016's SDCE 100 is to shine the spotlight on successful and innovative transformation projects that deliver bottom-line value to small, medium and large enterprises across the supply chain," says Ronnie Garrett, editor of Supply & Demand Chain Executive. "The selected projects can serve as a roadmap for supply chain executives looking for new opportunities to drive improvement in their own operations. We congratulate all of our winners for a job well done!"
"This is an awesome award for our project cargo division," said Jim Berlin, founder and CEO of Logistics Plus. "We handle a lot of pretty cool logistics projects for major companies all around the world. We give our employees plenty of internal accolades, but oftentimes the great work they do on these projects goes 'unsung' to the outside world. In this case, it's nice to see some well-deserved external recognition for another challenging cargo project successfully completed."
About Supply & Demand Chain Executive
Supply & Demand Chain Executive is the executive's user manual for successful supply and demand chain transformation, utilizing hard-hitting analysis, viewpoints, and unbiased case studies to steer executives and supply management professionals through the complicated, yet critical, world of supply and demand chain enablement to gain competitive advantage. Visit them on the web at www.SDCExec.com.
About Logistics Plus Inc.
Logistics Plus Inc. provides freight transportation, warehousing, global logistics, and supply chain management solutions through a worldwide network of talented and caring professionals. Founded in Erie, PA by local entrepreneur, Jim Berlin, 20 years ago, Logistics Plus is a fast-growing and award-winning transportation and logistics company. With a strong passion for excellence, its 380+ employees put the "Plus" in logistics by doing the big things properly, and the countless little things, that together ensure complete customer satisfaction and success.
The Logistics Plus® network includes offices located in Erie, PA; Alma, AR; Little Rock, AR; Los Angeles, CA; Riverside, CA; San Francisco, CA; Visalia, CA; Atlanta, GA; Chicago, IL; Detroit, MI; Kansas City, MO; Charlotte, NC; Lexington, NC; Buffalo, NY; Cleveland, OH; Charleston, SC; Greenville, SC; Nashville, TN; Dallas, TX; Fort Worth, TX; Houston, TX; Laredo, TX; Madison, WI; Bahrain; Belgium; Canada; Chile; China; Colombia; Egypt; France; Germany; India; Indonesia; Kazakhstan; Libya; Mexico; Poland; Saudi Arabia; Turkey; and UAE; with additional agents around the world. For more information, visit www.logisticsplus.com or follow @LogisticsPlus on Twitter.
Media Contact:
Scott G. Frederick
Vice President, Marketing
Logistics Plus Inc.
(814) 240-6881
scott.frederick@logisticsplus.com
Click image below to download the Logistics Plus logo: