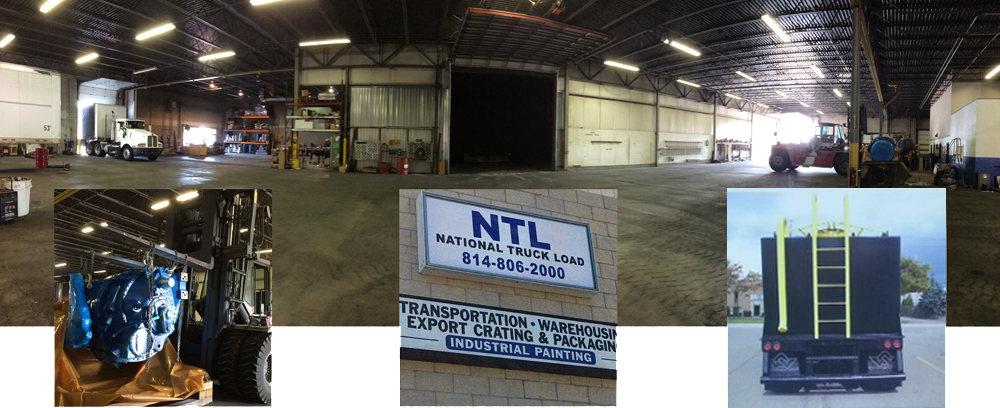 In addition to freight management and global logistics services, Logistics Plus® provides a variety of specialized and unique business solutions – just another way we put the "plus" in logistics to help our customers be successful. One of our more unique business solutions is delivered through our National Truck Load (NTL) division in Erie, Pennsylvania.
Serving nearby businesses in Northwest PA, Northeast OH, and Southwest NY, our NTL facility provides industrial painting services, heavy vehicle maintenance, and repair, and customized crating solutions (in addition to routing and dispatching our NTL truckload delivery services).
The facility is big, clean, and is uniquely designed for large, heavy machinery and equipment. At this facility, we have painted everything from railroad train cars to truck trailers, to engines, to wind turbines. One piece of equipment that allows us to make this all happen is our industrial-sized forklift (see inset picture in the bottom left) that can pick up and move equipment weighing up to 65,000 pounds!
When we're not moving and painting large equipment, we're providing maintenance services for our own NTL equipment and other customers in the area. Our experienced crew has a reputation for outstanding work, great rates, and superb reliability. And, as mentioned earlier, we also have a section of the building that is dedicated to custom crating services.
The NTL facility is located at 2311 West 15th Street, in Erie, PA 16505. If you're company or business is located in any of the surrounding "tri-state" areas (e.g., Erie, Cleveland, Pittsburgh, Buffalo, etc.), and if you have big equipment that needs to be painted or maintained, give us a call at 814-833-2771. We promise you'll receive the Logistics Plus trademark extra attention and care!