You have a business to run. You don't have time to find equipmen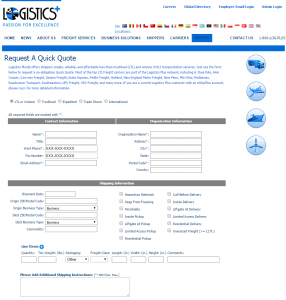 t, review carrier safety records, negotiate competitive rates, get quotes from multiple carrier websites, call multiple freight brokers, deal with delivery issues, and all of the other headaches that come with freight management. And now you don't have to. When you work with Logistics Plus Inc., we do the heavy-lifting so you can save money and time, reduce your risk, and enjoy the peace-of-mind knowing you're working with an experienced, reputable freight management company.
To help you save time and money, we now have a one-stop-shop Quick Quote Form at www.logisticsplus.com/quotes. You can use this form to get quick quotes on less-than-truckload (LTL) and volume shipments, full and partial truckload shipments, expedited and time-sensitive shipments, exhibit shipments to trade shows, and international air or ocean shipments.
When you select the "LTL or Volume" option, the form asks for some basic information that Logistics Plus needs to provide you with a quick quote. Most of the top LTL freight carriers are part of the Logistics Plus® network, including A. Duie Pyle, AAA Cooper, Con-way Freight, Dayton Freight, Estes Express, FedEx Freight, Holland, New England Motor Freight, New Penn, Pitt Ohio, Reddaway, Roadrunner Transport, Southeastern, UPS Freight, YRC Freight, and many more. Of course, if you are a current Logistics Plus customer with an eShipPlus™ TMS account, you can still login for more detailed information (or go here to create a new user account today).
When you select the "Truckload" option, you'll get access to over 5,000 dry van, flatbed, and refrigerated carriers that are all part of the Logistics Plus network; and we have access to thousands more through major load boards. Let us go to work sourcing a reliable and cost-effective carrier for your next truckload shipment so that you can focus on other parts of your important business.
Select the "Expedited" option and we'll find a top-rated expedited carrier to reliably deliver your time-sensitive shipment so that you can enjoy the peace-of-mind assurance that your critical goods will be handled with our trademark "plus" extra care.
If you have an exhibit shipment going to a trade show or special event, select the "Trade Shows" option. We work with the top exhibit transportation carriers, and we can handle both small and large trade show shipments.
Lastly, if you do any importing or exporting of goods, select the "International" option and let our global experts go to work on your behalf. Import or export, air or ocean, standard or expedited – we have the resources to do it all. We have offices and agents around the world to handle your international shipments with care – and we can even help you with global trade compliance duties and regulations (it's one of our specialties).