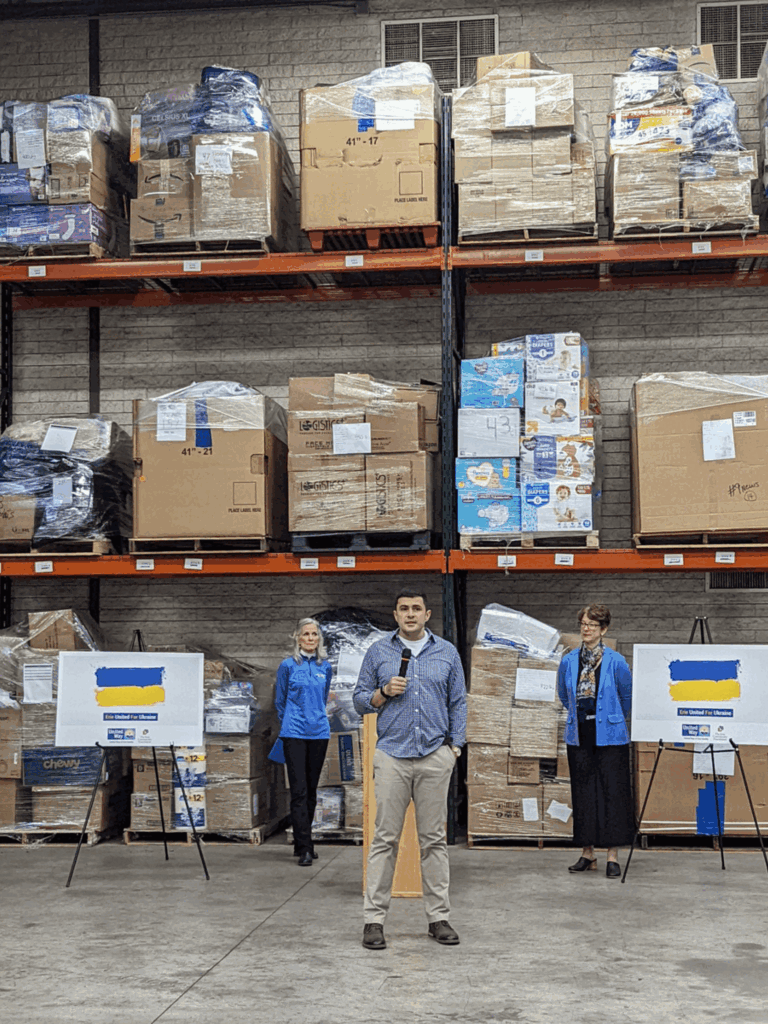 Today, the two new leaders of The Erie Community Foundation and United Way of Erie County announced the #ErieUnitedForUkraine campaign. This campaign supports the international effort by United Way Worldwide, a multinational effort to direct much-needed donations to United Way organizations in the countries welcoming Ukrainians fleeing the horrors of war.
The announcement was made from the Logistics Plus ETN warehouse, which has already been collecting items to ship to Lublin, Poland (Erie's sister city), where it will go to support Ukrainian refugees. Logistics Plus COO Yuriy Ostapyak spoke to the media to thank everyone for the outpouring of support from the Erie community.
United Way and The Erie Community Foundation are encouraging donors and the community to donate through the local campaign portal #ErieUnitedForUkraine. Monetary donations will be directed to the organizations with expertise in humanitarian relief efforts: United Way Romania, United Way Hungary and Fundacja Dobrych Inicjatyw (Good Initiatives Foundation) in Poland.
Read more about the campaign or support the cause here: https://www.eriecommunityfoundation.org/news/erieunitedforukraine-campaign-to-assist-in-humanitarian-crisis