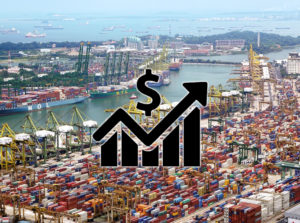 Understanding how freight pricing varies by transportation mode can help determine the most cost-effective solution for your business. By learning the ins and outs of pricing variables, you can find ways to cut costs, increase efficiency, and avoid overpaying for services you don't need. Quite frankly, determining the mode of transport is one of the most critical business decisions you can make.
Less-than-truckload (LTL)
LTL shipping refers to freight deliveries that are too large to ship via parcel but too small to fill an entire truck. LTL carriers sell multiple shippers space on the same truck and LTL shipments are often more complex to price than other modes of transportation. Pricing is calculated using several factors, including total weight, density, freight classification, distance, and accessorials.
Full Truckload (FTL)
Full truckload is used when a single shipper has enough freight to fill up an entire truck. Truckload rates tend to be the most simple to determine since they are based on a per-mile or flat door-to-door rate. Not surprisingly, capacity also has a major impact on full truckload prices.
Parcel
Standard parcel shipping has become one of the highest-profile sectors within the shipping industry due to the rise of e-commerce. Parcel is similar to LTL freight pricing. Cargo is priced by the pound, dimensions, and transit times. There are additional charges for packages that fall outside of certain dimensions or weight thresholds. Standard, first-class, and overnight options are usually offered for parcels which play a part in determining the price.
Airfreight
Airfreight is an often-used mode of transportation for time-critical shipments. Air carriers will charge by either volumetric weight (also known as dimensional weight) or actual weight, depending on which is more expensive. If the volumetric weight exceeds the actual weight of the product, the volumetric weight becomes the chargeable weight.
Ocean Freight
In comparison to air freight, ocean freight tends to be less expensive. Charges are based on the nature of goods being transported, the weight or volume, distance to the destination port, and the rates set by the shipping carrier. Ocean freight prices also depend on the shipper's decision to go with an FCL or LCL shipment. Full Container Loads (FCL) are best suited for large shipments, while Less than Container Loads (LCL) are more suitable for smaller shipments.
Rail/Intermodal
Rail and intermodal options tend to be the most cost-effective way to transport cargo. Rail containers are booked on a per-mile basis, similar to truckload shipping. Intermodal providers have agreements in place with railroads to transport cargo across the various rail networks.
Contact us to get started if you'd like to request a free quote on your next ground, air, ocean, or rail shipment. With over 25 years of experience, our team of experts is ready to assist you with your transportation needs.